United States President Donald Trump defended his Charlottesville remarks that were widely condemned during a campaign-style rally in Phoenix.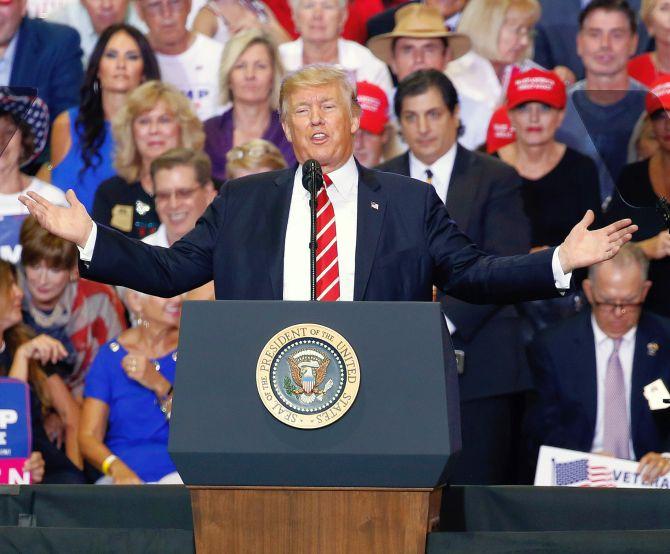 IMAGE: United States President Donald Trump speaks at a campaign rally in Phoenix, Arizona. Photograph: Joshua Roberts/Reuters
"What happened in Charlottesville strikes at the core of America. And tonight, this entire arena stands united against the thugs who perpetrate hatred and violence," Trump said, adding, "I strongly condemn neo-Nazis, white supremacists and the Ku Klux Klan members."
"I openly called for unity," Trump added.
Trump called a majority of the mainstream American media dishonest, bad and a "lobbying tool" for allegedly giving a platform to hate groups after the violence at a white supremacist rally in Virginia.
Trump, whose controversial remarks after the violence in Charlottesville on August 12 drew widespread criticism, said most of the media was propagating incorrect information about him and fomenting divisions in the United States.
Trump had earlier said that "both sides" were to blame for the clashes. But he changed course after severe backlash and said there was no room for prejudice, bigotry and hate.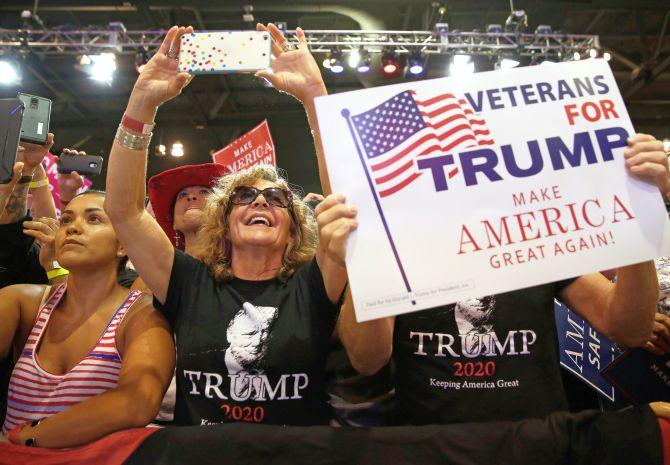 IMAGE: Supporters of Trump cheer him at the campaign rally. Photograph: Joshua Roberts/Reuters
Trump singled out popular media organisations like The New York Times, The Washington Post and CNN for his criticism.
He, however, praised Fox News for its coverage of his presidency.
"For the most part honestly, these are really, really dishonest people, they're bad people," Trump said. "I really think they don't like our country, I really believe that."
He claimed The Times apologised to him after he won the November election and called The Post "a lobbying tool for Amazon".
"Or CNN, which is so bad and so pathetic, and their ratings are going down," he said.
"They are trying to take away our history and our heritage, you see that," he said in an apparent reference to the removal of monuments of Confederate generals following the the death of a woman during clashes among hundreds of white supremacists and counter protesters in Charlottesville.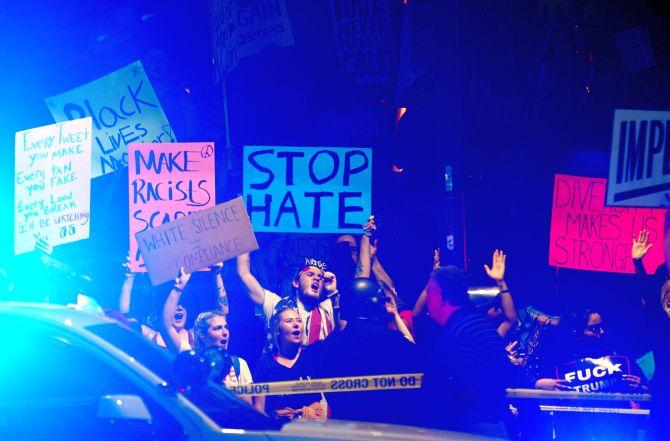 IMAGE: Anti-Trump protesters outside Trump's campaign rally in Phoenix. Photograph: Sandy Huffaker/Reuters
"The only people giving a platform to these hate groups is the media itself and the fake news," he said and added that had it not been for the social media, where he is very active, he would not have been in the White House.
The media "don't want to make our country great again," he said. "They have double standards. You never heard them say that. And in fact, if you use the term you'd get criticised. But with me, they wanted me to say it, and I said it. And I said it very clearly, but they refused to put it on," he said.
Trump also alleged that the mainstream media "turns a blind eye to the gang violence on our streets, the failures of our public school, the destruction of our wealth at the hands of the terrible, terrible trade deals made by politicians that should have never been allowed to be politicians.
Earlier, thousands from across Arizona flocked to Downtown Phoenix to protest Trump's rally.
With inputs from PTI