It's been 15 days since Prime Minister Narendra Modi sent ripples across the nation when he announced that Rs 500 and Rs 1000 notes would be demonetised immediately.
What has ensued since then has been serpentine queues outside banks and ATMs where people hope to exchange/deposit their money.
And while in some places the queues seem to have shortened, the pain that the common man has had to endure is evident from the various protests that have been carried out since November 8.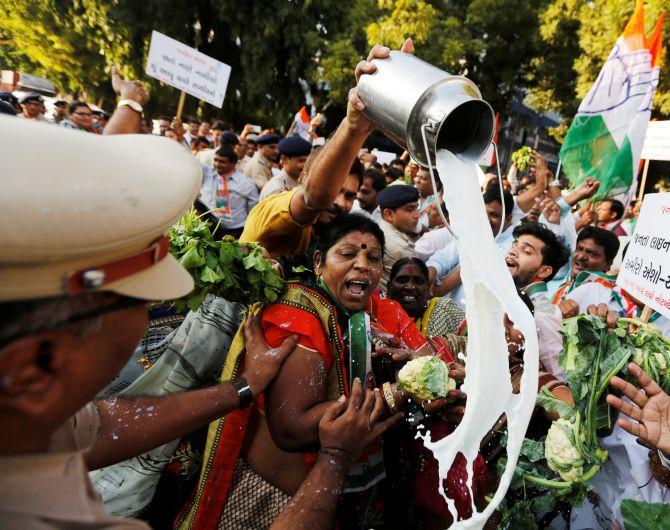 Milk protest: Congress party workers pour milk on a road to protest against the government's decision to withdraw 500 and 1000 rupee banknotes from circulation in Ahmedabad. Photograph: Amit Dave/Reuters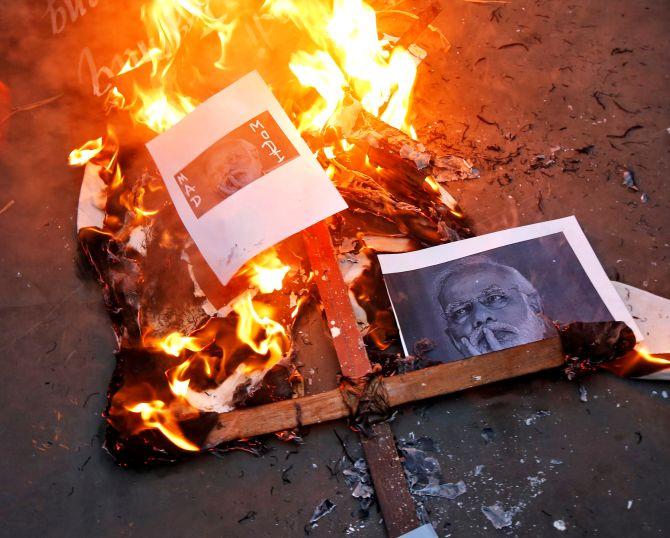 Burn, baby, burn! While many support the move of the PM to demonetise the high currency note, they have questioned the implementation of the scheme, with some saying that the PM hadn't thought it through. In many places, Modi's photographs were burnt in a way to display their anger against the government. Photograph: Rupak De Chowdhuri/Reuters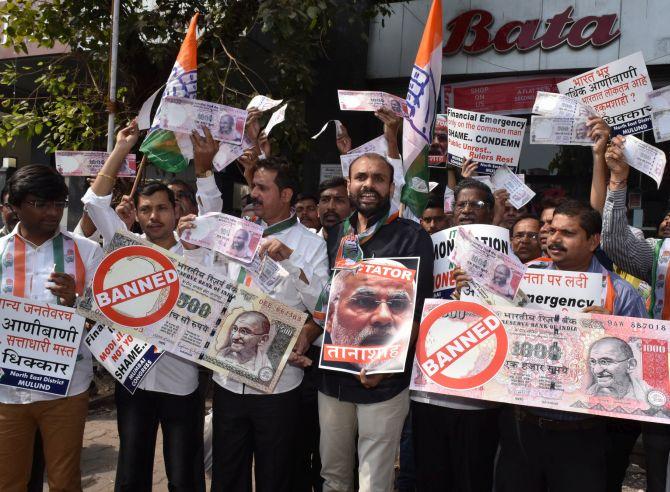 Down with the Dictator: Many people have dubbed Modi 'dictator' over the decision to ban the notes overnight. Traders, retailers and other businessmen carried out a protest in Mumbai against the entire move. Photograph: Sahil Salvi/Rediff.com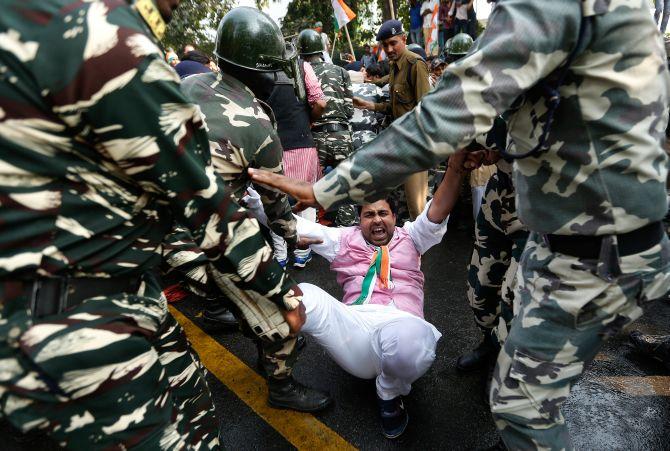 In some places, like in New Delhi, the police had to be called in to ensure that the protests did not turn violent. On November 18, police detained Congress party members when they protested against the demonetisation scheme. Photograph: Adnan Abidi/Reuters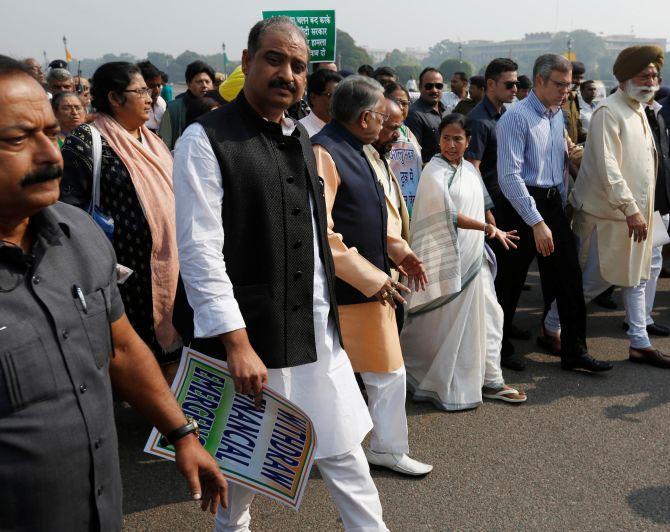 Even leaders of opposition parties have taken out protests against PM Modi. West Bengal Chief Minister Mamata Banerjee had led a delegation of leaders across political parties to Rashtrapati Bhavan, demanding for a roll back of the plan. Photograph: Adnan Abidi/Reuters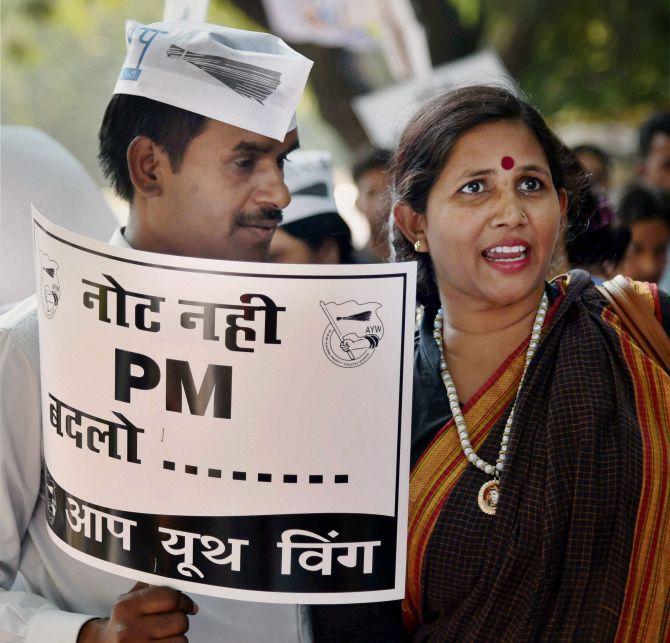 Arvind Kejriwal's Aam Aadmi Party has also been up in arms against the plan, with the Delhi Chief Minister calling it the 'biggest scam in Independent India'. Photograph: Atul Yadav/PTI Photo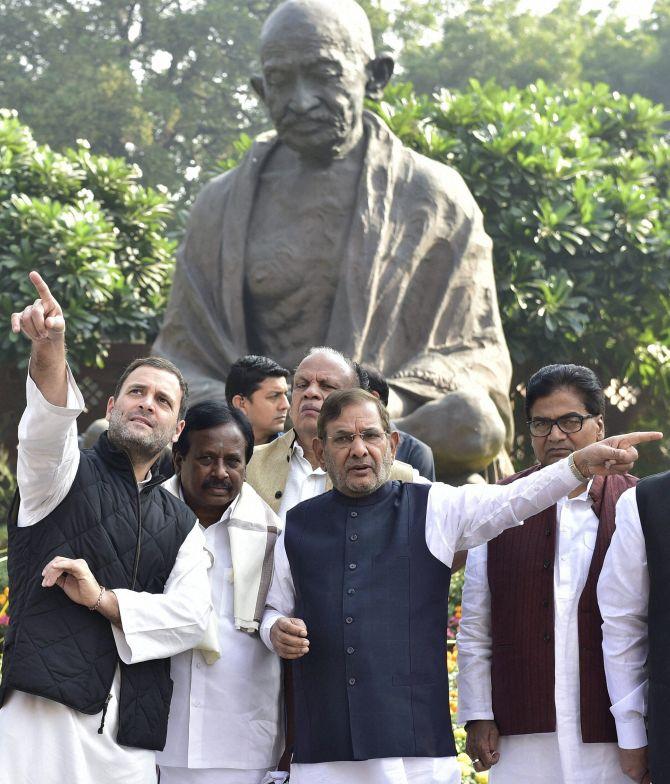 Congress vice president Rahul Gandhi too held a protest outside Parliament against the move, saying that while the common man was suffering, Modi's friends were in the know and already changed their black money. Photograph: Kamal Kishore/PTI Photo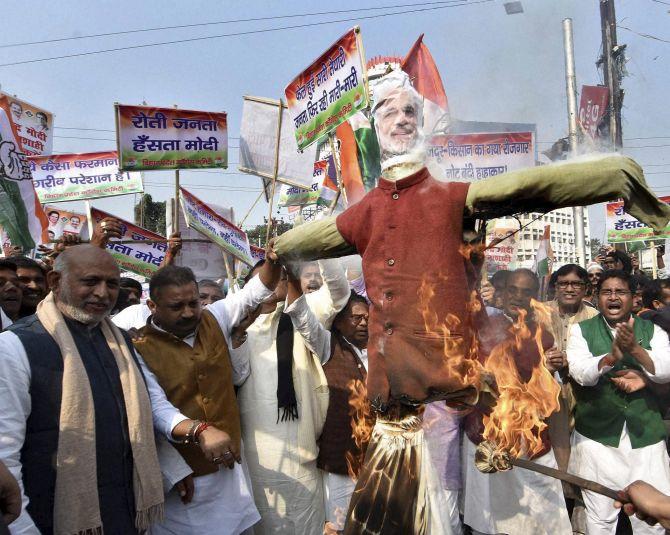 Congress workers burn the effigy of PM Narendra Modi during a protest march against demonetisation of Rs 500 and Rs 1000 notes, in Patna. Photograph: PTI Photo