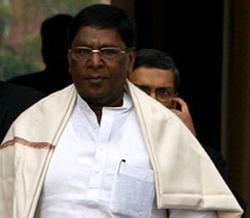 A suspected explosive device was on Wednesday found under Union Minister V Narayanasamy's car which was parked outside his residence in Puducherry.
Bomb service personnel are examining the device, planted by some unidentified persons, Director General of Police P Kamaraj told media persons.
Two wires were found connected to the pipe-like device which was sealed at both the ends. "The report of the bomb detection and disposal squad is awaited for follow up action," he said after visiting the residence of Narayanasamy, who is in Delhi.
A case has been registered under the Explosives Substances Act. Narayanasamy told PTI that his driver noticed the object under the car in the wee hours.
The Union Minister said it only showed that activities of anti-social elements are on the rise in the UnionTerritory. Congress activists staged a demonstration condemning the incident.