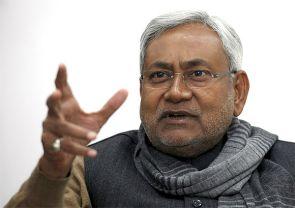 In an apparent dig at his rival and Bharatiya Janata Party prime ministerial candidate Narendra Modi, Bihar Chief Minister Nitish Kumar on Thursday said people talk about history without proper knowledge of the subject.
"Today people talk about history without proper knowledge about the subject," Kumar told media persons on the sidelines of 61st All India convention of India Historical Record function in Patna.
He, however, did not name his Gujarat counterpart. Kumar's snide remarks was apparently aimed at Modi who in his speech at the BJP's "Hunkar rally" on October 27 had mentioned Taxila being in Bihar, Porous was defeated on the bank of Ganga instead of at Satluz and Chandragupta belonging to Gupta dynasty instead of Maurya dynasty.
The erroneous reference of historical facts were highlighted by Kumar earlier also which brought Modi's subsequent speeches under scrutiny of historical facts. Modi was subsequently laughed at for confusing Shyamji Verma with Shyama Prasad Mukherjee and Mohanlal in place of refering father of the nation as Mohandas (Karamchand Gandhi).
Kumar said his government was building a mammoth International museum in Patna to preserve ancient historical records and manuscripts.