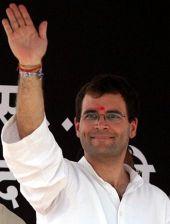 "I am MP of Amethi first and its people are most important for me," Rahul Gandhi said on his first visit to his Lok Sabha constituency after being elevated as Congress vice president.
Striking an emotional chord with the people of Amati, Rahul said, "I have been given additional responsibility but first I am the MP of Amethi and its people, and the future of the children are most important for me."
Roads leading to the constituency were decked up for the "homecoming" and it was 'dhol' and 'nagara' all the way from the Fursatganj airport.
Rahul got down from his SUV to acknowledge the felicitations and at some places addressed the people to express his gratitude.
"I enjoy the most when I come here as this is my family and I do not have political relations with the people... and your problems are mine," he said.
"Though I live in Delhi, when I come here I feel this is my home...may be because my family lived in UP this is my home and family and I an not going to leave it," he said in identical brief speeches at about two dozen places.
At the same time, he tried to drive home a political message referring to development of Uttar Pradesh.
Rahul said the pace of development in the Samajwadi Party-ruled state did not match the works done by the Centre.
"The pace of development is not what it should be...whatever we can do from Delhi we are trying to do but the government here is not doing as much is required but I do not want to speak on it.
"We do not have our government in UP but a day will come when we have a Congress government here," he said and pointed out that a lot of development has taken place in Maharashtra and Delhi where Congress is in power.
"It should also be the same in UP as there is no dearth of funds... lack of money was there about 40 to 50 years ago but not any longer... Delhi (Central) government is sending money through which work can be done twice but it is usurped by contractors and corrupt people in the government. This is a matter of concern," he said.