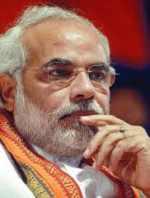 It's going to be Narendra Modi all the way believes Gujarat's aam janta. Sonil Dedhia finds out as he speaks to a cross-section of people in the state ahead of the upcoming polls.  

I am sure Narendra Modi will win the elections," says Dr Aalap Shah who runs a multi-specialty clinic Mission Health in Ahmedabad.

Dr Shah has had a few interactions with Modi. He also held a workshop for the chief minister and Indian Administrative Service officers of Gujarat on how to beat work stress trough a special programme called ergonomics.

Recalling his meeting with the CM, he says, "I remember Narendra Modi walked in and greeted me with a big smile. Being the chief minister of Gujarat I expected him to sit in the front row, but I was shocked that he went and sat in the seventh. This shows that he is a very down-to-earth person."

He also feels that Modi has become a synonym for Gujarat, "People know Gujarat because of Modi. Under the Bharatiya Janata Party government the state has seen a lot of positive changes."
Almost all the people visiting the clinic are confident of Modi's victory in the upcoming elections.
Bharat Patel, a businessman visiting Mission Health, feels that the BJP government has done a wonderful job in the last 11 years. "I haven't seen so much development taking place in any other state in India," he says, adding, "There is ample opportunity for anyone to do business in Gujarat."
Patel also bats for Modi. "I am very positive about Modi. I don't think anyone is capable of doing what he has for us. Keshubhai Patel and Shankarsinh Vaghela have both been chief ministers earlier but they are of no match to Modi."
Patel believes that the main reason for Modi's successful reign is the peace in the state. "There hasn't been a single day in the last 10 years when any part of Gujarat is shut or a curfew has been imposed. Also there are a lot of multinational companies which have moved their base to Gujarat."
A self-confessed Modi fan Nishant Shah feels the credit of the law and order in the state goes to Modi. "People no longer know what a curfew is like. Women today feel protected to step out even late at night."
He also says that the Modi government is responsible for major developments, which have resulted in making Gujarat the Number 1 state in India. "The BRTS (bus rapid transit system) service has been revolutionary for Ahmedabad. There are so many new educational institutions coming up; there are massive employment opportunities in Gujarat."
"For the last 10 years, I haven't heard of any riots," says Mennaxi Shastri, who works as a principal of SomLalitSchool in Ahmedabad. 
Shastri also feels that there have been a lot of positive changes in the education system. "The studying pattern has seen certain changes -- the results of which will be seen in a year or two. I am sure they are going to be positive," she says.