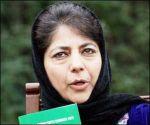 Asserting that statement of the Union Home Minister Sushil Kumar Shinde is "insult" to the House and people of Jammu and Kashmir, Opposition PDP announced a boycott of the remaining budget session of the state Assembly.
"The home minister has insulted the sense of the house by refusing to return mortal remains of Afzal Guru", PDP chief Mehbooba Mufti told reporters.
"We therefore boycott the rest of the budget session of the House in protest over it -- there is no use to sit in a House which has been insulted," Mufti said after staging a walkout from the Assembly along with rest of its members.
She said the returning of the Guru's body to his family would have cooled the tempers in Kashmir and returned normalcy and commenced tourism season in the sate.