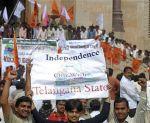 Making a strong pitch for separate Telangana, Nationalist Congress Party Chief Sharad Pawar on told Prime Minister Manmohan Singh that a delay in the matter would not be helpful.
The NCP chief on Wednesday said he raised this issue with prime minister, becoming the first UPA-constituent to openly come out in support of an early decision on Telangana, and was expecting a meeting of the UPA to be held soon.
Talking to reporters, Pawar insisted that Congress was also "generally pro-Telangana".
"The question (to create a separate state) is that of timing.... We want Telangana as early as possible. A delay will not be helpful to us," Pawar said.
The Union agriculture minister said his party has been supportive of separate Telangana for long and had even held a rally with TRS Chief K Chandrasekhar Rao few years back.
Pawar, whose party is also a major partner in the Congress-led coalition in Maharashtra, said that NCP has no objection if Vidarbha region also becomes a separate state. "We will not come in the way".
Pawar expressed ignorance when asked whether the budget session of Parliament beginning this month was a consideration for delaying a decision on Telangana.
The remarks of the NCP chief came close on the heels of Congress saying that it was not against formation of Telangana and the government was in the process of taking a decision.
"Congress is not against the formation of Telangana state. We are in the process of taking a decision but then formalities have to be completed," party spokesperson P C Chacko had said on Wednesday.
Congress MPs from Telangana have threatened that they will send their resignations to Speaker Meira Kumar if urgent steps are not taken for formation of a separate state.