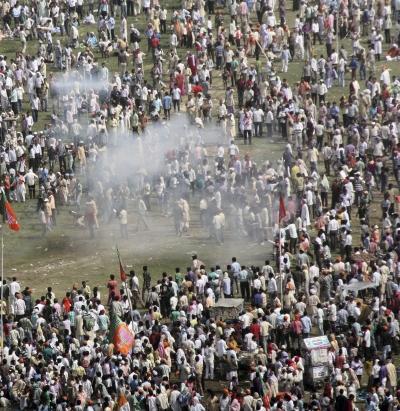 Tabish Niyaz alias Arshad Ansari, a suspect in the Patna serial blasts case of last year, was granted bail and released from Beur jail on Monday, after the National Investigation Agency failed to file a charge sheet within the stipulated 180 days.
The blasts, which killed six persons, took place on October 27 last year at the Patna railway station and at the Gandhi Maidan during Prime Minister Narendra Modi's 'Hunkar' rally.
Niyaz, who is a resident of Alauli village in east Champaran district was arrested by the NIA on October 30 last year after the blasts on October 27. He is one of the 12 suspects who have been arrested so far in the case.
Among the 12, six have been arrested from Ranchi, four from Mirzapur in Uttar Pradesh and two others from Raipur. Though Niyaz was not named in the FIR filed in the case, the NIA had alleged that he was one of the main accused.
All persons including the main accused Imtiyaz Ansari and Haider Ali are also lodged at the Beur jail. Niyaz was also alleged to be a member of the Indian Mujahideen and was allegedly associated for three years with Haider alias 'Black Beauty'.
The police had then said that Niyaz had carried out reconnaissance of the Gandhi maidan and its surrounding areas on October 8, 9 and 10, while staying at a hotel in Patna.
His house in Motihari was alleged to have been used as a 'retreat' by the accused after the blasts. Niyaz's parents, who had come to receive their son, allege he is innocent, and accused the NIA of framing false charges. "Our son was falsely implicated and jailed for over six months," they charged.