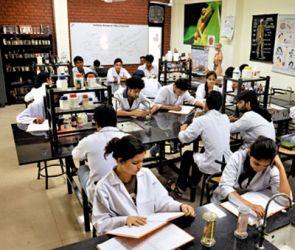 Protesting the murder of their colleague and the lack of security at the Assam Medical College Hospital, junior doctors have continued their strike. Anurag Kashyap reports.
Medical services at Assam's Medical College Hospital in Dibrugarh were affected for the fifth consecutive day on Tuesday after junior doctors continued to remain on strike.
The doctors went on strike to demand adequate security in the wake of the murder of Dr Sarita Tashniwal, who was killed in the hospital on Friday morning. According to officials, the doctor was allegedly killed by a ward boy while she was taking rest in the doctor's room after attending her night shift duty. She was found with a surgical knife stabbed in the left side of her neck.
Assam Health and Family Welfare Minister Dr Himanta Bishwa Sharma has sought time till today from the agitating doctors to fulfill their demands while the principal of the hospital Dr A K Adhikary has remained absent from the institution.
The junior doctors have submitted a range of demands that include ensuring foolproof security on the AMCH campus, a Central Bureau of Investigation inquiry into the killing of the doctor, exemplary punishment to the guilty, suspension of the principal, vice-principal and superintendent of the institution.
The health minister, who went to meet the agitating doctors, verbally assured them of the steps to augment security on campus, including proper lighting, police patrolling and installation of CCTV cameras in all departments of the hospital. He also pledged to take action against the hospital authorities, but refrained from giving any written commitment on this issue.
It may be noted that the principal was not present in the institution when the junior doctor was murdered and he is yet to reach the institution following the incident.
Image used for representational purposes only.