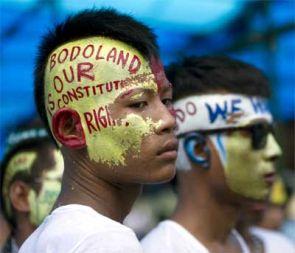 The Centre's decision to constitute a one-member panel headed by former Union Home Secretary G K Pillai to consider the demand for a separate Bodoland state has triggered fresh unrest in the Bodoland Territorial Autonomous District Council areas of Assam.
It has created a peculiar situation where two confronting groups -- organisations opposed to the idea of a separate state and organisations demanding a separate state for the Bodo tribe -- have opposed the formation of the Pillai Panel for different reasons.
The non-Bodo organisations who are opposed to the Bodoland state demand have criticised the formation of the G K Pillai committee as they believe it is a step towards formation of a Bodoland state.
On the other hand, organisations, including the All Bodo Students Union, claim the committee is being formed as a delaying tactic by the Centre.
Both sides have vowed not to cooperate with the panel.
Influential All Bodo Students' Union president Promode Bodo has stated that there was no need to constitute a fresh panel to examine the pros and cons of the long-standing demand for a Bodoland state. He said Bodoland state should be granted by the Centre the same way it had created Telangana state. He said the ABSU would resort to intensive agitation if the Centre failed to heed its demand for creation of a separate Bodoland State.
The Bodoland People's Front, which rules the BTC, has maintained that the Centre's decision to constitute the committee was prudent, as all the communities living in the Bodoland areas must be consulted before arriving at a decision.

Non-Bodo organisations including Non-Bodo Protection Forum and Sanmilita Janagoshtiya Aikya Mancha have vowed to opposed any attempt to create a separate Bodoland state out of Assam on the ground that that area concerned is inhabited by not only Bodos but by several ethnic groups and other communities for centuries.
They say the Bodos were not the majority population group in the area and a separate state of Bodoland would lead to deprivation of other major communities living in the area of their political rights.
Image: Supporters of Bodoland People's Front with their faces painted attend a rally at Kokrajhar, Assam

Photograph: Reuters