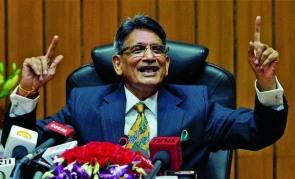 A day after Parliament approved scrapping of collegium system for appointment of judges in higher courts, the Chief Justice of India R M Lodha on Friday said Parliament and Executive should not interfere in the domain of Judiciary.
"I am sure that people in Judiciary, people in Executive and people in Parliament are mature enough to have mutual respect for each other and ensure that each of them is permitted to work in their sphere unhindered by any extraneous influence," Justice Lodha said after unfurling tricolour in the Supreme Court premises.
He said our Constitution makers made it sure that all organs of the state operate in their respective field without encroaching upon the other's domain.
Notwithstanding reservations of judiciary, Parliament had on Thursday cleared two bills providing for a new mechanism for appointment of judges to higher judiciary by scrapping over two-decade old collegium system that had come under attack from political parties and others.
Apparently responding to criticism over inordinate delay in the justice delivery system, Justice Lodha noted that while judiciary is responsible for appointing less then 1,000 judges (of SC and HCs) the state governments appoint 19,000 judges in lower courts.

"As head of judiciary my heart feels pain when I find criminal justice system has given tremendous suffering, pain, exploitation of human rights and deprivation of human liberty," he said, adding, that majority of prisoners in jails are undertrials.
"It is curious and tragic paradox that prisons are housed more by undertrials than convicts," he said while noting that in central prisons more than 50 percent inmates are undertrials and in case of district prisons the figure is more than 72 percent.

Union Law Minister Ravi Shankar Prasad, who was present at the function organized by the Supreme Court Bar Association, said sanctity and independence of judiciary will be held high.
"Our government's commitment to the sanctity and independence of judiciary is complete and we hold it very high," Prasad said.
He said Prime Minister Narendra Modi has told him from the very start to ensure that outdated laws are scrapped.

"Till now 36 outdated laws have been shortlisted and their repeal bills are pending. I will ensure that in the next session of Parliament around 200-300 outdated laws will be repealed. I am pursuing the matter," Prasad said.

Asking the law minister to consider increasing the number of judges to increase judge-case ratio or judge-population ratio, Justice Lodha said that government should also provide technology tools to police, prosecution and judicial officers to speed up the justice delivery system.

"Police don't have tools and they can't handle cyber crimes. There are deficiencies in prosecution and as a matter of fact their is delay in justice delivery system," he said.