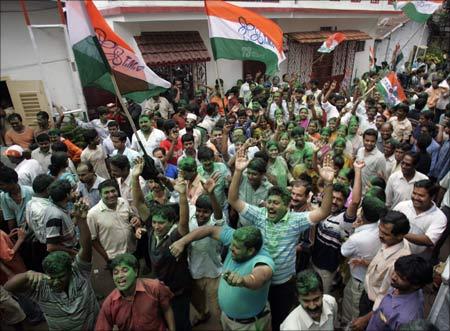 Eleven persons were injured in a clash between the Trinamool Congress and Congress party workers at Sabong in West Midnapore district as the first phase of panchayat polls began on Thursday in West Bengal.
The injured included a TMC gram panchayat candidate. Five of the injured were taken to Midnapore Sadar hospital, the police said.
In another incident, senior Communist Party of India-Marxist leader Surya Kanto Mishra was involved in an altercation with local Trinamool Congress supporters outside a polling booth at Khadurdah gram panchayat area in West Midnapore district.
Police sources said Mishra had an altercation with a group after coming out of the booth where he went to cast votes but he was not manhandled. He was later escorted to his car, they said.
According to eyewitnesses, after coming out of the booth Mishra complained to reporters that the Left was forced to field outsiders in the local rural body polls as its cadre in the area were facing intimidation and threat from the Trinamool.
This infuriated some of the Trinamool men present and they got into an altercation with Mishra but the situation was soon brought under control and he was escorted to the waiting vehicle, the eyewitnesses said.
The Trinamool claimed Mishra was making baseless allegations in the polling area while the CPI-M alleged the opposition leader in assembly was heckled.
Elections in 67 zilla parishads besides pancayat samitis and gram panchayats are being held in the district along with Bankura and Purulia in the first phase.