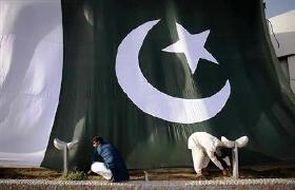 A Pakistani court has rejected the bail application of Malik Ishaq, chief of the banned Lashkar-e-Jhangvi that has been blamed for a series of attacks on the Shia minority.
Ishaq, who is in house arrest in Bahawalpur district of Punjab province under the Maintenance of Public Order Ordinance, had applied for bail in the Lahore high court in connection with two cases.
He was accused of delivering hate speeches against Shias during religious gatherings in Bhakkar district in August 2012 and February 2013.
A division bench yesterday rejected his bail petition and directed him to approach the trial court for relief.
Ishaq's counsel argued that two cases registered by police in Bhakkar against his client amounted to "political victimisation". He claimed police registered the cases without any evidence and included provisions of the Anti-Terrorism Act in the FIRs.
Opposing the bail plea, a law officer of the government told the court that police had "solid evidence" against Ishaq.
Ishaq, who is also vice-president of the Ahl-e-Sunnat Wal Jamaat that is considered a front for the LeJ, was released in July 2011 after spending 14 years in prison over 44 counts of murder and terrorism.
He was set free when the charges could not be proved, partly because all the witnesses against him had been intimidated or killed in mysterious circumstances. After his release, there was a sharp increase in attacks on Shias across the country, especially in Quetta.
The LeJ claimed responsibility for sectarian attacks in Quetta that killed nearly 200 people, mostly Shias, last year. The sectarian killings have continued this year as well. In a recent assault, 24 Shias, including women and children, were killed in Balochistan.
The Shia community are organising protests across the country. The protests entered their second day today as the sect refused to bury their dead till the government arrests their killers.