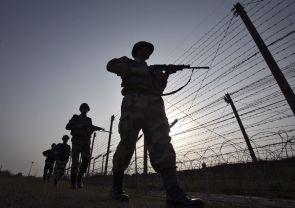 Pakistani troops violated ceasefire and opened fire at Indian posts on Monday along the Line of Control in Poonch district, the fourth violation in July.
Pakistani troops opened fire at Indian posts in the forward area along the LoC in Poonch district at 11.30 pm on Monday, Defence Public Relations Officer Colonel R K Palta said.
The Pakistani troops also fired Pika rifle rounds.
The firing continued for 20 minutes, Colonel Palta said.
Indian troops guarding the border also retaliated, he said.
There was no loss of life or injury to anyone in the firing, the PRO said.
This is the fourth ceasefire violation this month.
On July 3, Pakistani troops fired at some policemen who had gone to LoC at Sabzian in Poonch to collect the body of a Pakistani intruder killed in a blast.
The Pakistani troops had again fired at Indian soldiers on July 8 while they were trying to evacuate injured porters along the LoC in Poonch.
On July 12, Pakistani Rangers opened fire at Indian forward posts in Pindi belt along the International Border in Jammu district.