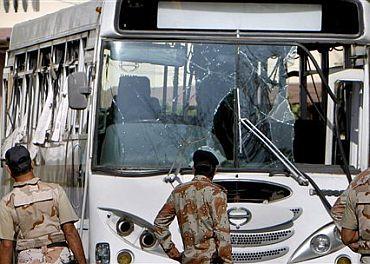 In the third such assault in two days, five people, including four Pakistani naval personnel, were killed when a roadside bomb ripped through a navy bus on a key thoroughfare in the southern port city of Karachi on.
More than 15 people were wounded in the attack in Faisal Avenue, one of the main roads in Pakistan's politically tense economic capital, where North Atlantic Treaty Organisation ships berth with supplies for troops in Afghanistan.
Four naval sailors and a passing motorcyclist were killed in the blast at around 8.15 in the morning as the Navy bus carrying the sailors was leaving the Pakistan Navy's Mehran base on the main Karsaz-Shahrah-e-Faisal road, a naval spokesman and other officials told the media.
The injured were rushed to hospitals, where condition of one civilian was reported to be serious. The attack comes just days after the Pakistan Army Chief General Ashfaq Parvez
Kayani declared that his army had "broken the back" of the Taliban and Al Qaeda linked militants in the country.

The attack occurred at the same spot where slain former premier Benazir Bhutto's motorcade was attacked by two suicide bombers shortly after she returned to Pakistan from self-exile in October 2007.

Karachi is Pakistan's biggest city and home to the main base of the Pakistani Navy.

The Taliban have carried out several attacks in the city since Pakistan joined the US-led war against terrorism in 2001.