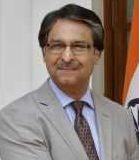 Veteran Pakistani diplomat and current Foreign Secretary Jalil Abbas Jilani is expected to be appointed the country's ambassador to the US ahead of Prime Minister Nawaz Sharif's visit to Washington this month.
Jilani, a career diplomat, has served as Ambassador to Belgium, Luxembourg and the European Union and also did a stint in New Delhi as deputy high commissioner.
Sources in the government told PTI that he is expected to be named for the post of the Ambassador to the US. An official announcement is expected soon, they said.
The post has been lying vacant since former envoy Sherry Rehman, a senior leader of the Pakistan People's Party, resigned in May following her party's defeat in the general election.
Sharif visited the US last month for the UN General Assembly and is scheduled to meet President Barack Obama on October 23.
The two leaders are expected to discuss ways to strengthen cooperation on issues of mutual concern, including countering violent extremism, the White House had said.
Many Pakistani analysts have spoken about the urgent need for appointing an envoy to the US.
Jilani has specialised in South Asian affairs and served as Director India during 1992-1995, deputy high commissioner to New Delhi during 1999-2003 and director general for South Asia and SAARC during 2003-07.