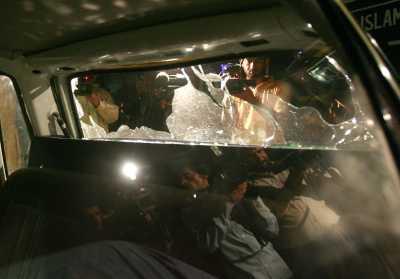 A suicide bomber blew himself up outside an office of the Special Branch of police in the Pakistani capital today, killing himself and a policeman while injuring five others.
The suicide attacker detonated his explosives when he was stopped at the gate of the Special Branch office, near the busy Sitara Market in Sector G-7.
The police constable who stopped the bomber was killed in the blast. Five other persons, most of them policeman, were injured, officials said.
Witnesses said the bomber was accompanied by another person but his whereabouts could not be ascertained after the attack.
The blast damaged the Special Branch office and several nearby buildings. Interior ministry chief Rehman Malik, who visited the site of the attack, said the casualties would have been higher if the bomber had not been prevented from entering the complex.
Malik said intelligence agencies had recently reported that five to six suicide bombers were likely to enter Islamabad to attack political leaders and rallies. Following this, a high alert had been sounded in Islamabad and other cities, he added.
Image: Television crew members film a damaged vehicle at the site of a suicide bomb attack in Islamabad.
Photograph: Faisal Mahmood/Reuters