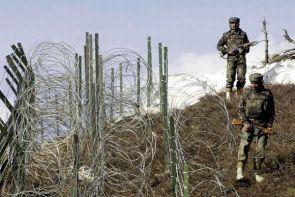 Pakistani troops resorted to unprovoked and indiscriminate firing amid rocket and mortar shell attacks on Line of Control posts injuring three army jawans and a civilian in Poonch sector of Jammu and Kashmir.
This is the 11th ceasefire violation in past five days, army officials said on Thursday.
Pakistani troops opened fire along LoC on several Indian forward posts in Balakote belt of Poonch district from 0630 hours, the officials said.
They fired automatic weapons, rockets and mortar shells in which three jawans received minor injury. They have shifted to hospital.
A shell of 82-mm mortar fired by Pakistan troops fell in Sanjote forward area of Mendhar tehsil resulting in injury to Parvaiz, a civilian, who was shifted to GMC hospital in Jammu.
A rocket fired by Pakistani troops fell and exploded on a cowshed in Basonia village of Mendhar on Thursday afternoon resulting in death of a dozen cattle.
Defence Spokesman, Jammu, S N Acharya said in a official release that Pakistan Army started unprovoked firing at Indian forward posts in Mendhar sector from 06:30 am.
"Own troops retaliated immediately with heavy caliber weapons," he said, adding that the firing was on till late in the afternoon.
The ceasefire violations on the LoC have had a spurt in past one week triggering tension between the two South Asian nuclear neighbours.
The incident of killing of five soldiers on the LoC in Poonch sector earlier this month has particularly exacerbated the tensions.
Meanwhile, Jammu and Kashmir Governor N N Vohra in his Independence Day message said that since the beginning of this year "there have been continuing attempts at infiltration and repeated attacks on our security forces, leaving no doubt that the adversary agencies and forces across the Line of Control remain committed to their agenda of destabilising Jammu and Kashmir," adding that in this scenario the security forces shall need to maintain eternal vigilance.
The governor observed Jammu and Kashmir will be able to achieve rapid human development and steady economic growth only when there is sustained peace along the LoC.
He said, "While looking forward to the early realisation of such a development, we must thank the army for maintaining eternal vigil on the LoC and pay homage to the valiant officers and men who have laid down their lives for maintaining the territorial integrity of our country."
"The 2003 Indo-Pak ceasefire has become meaningless. There is daily firing these days as was witnessed before the 2003 truce between India and Pakistan," a senior security officer said.
There have been 57 ceasefire violations by Pakistani troops from January 1 to August 5 this year, which is 80 per cent more than during the same period last year, the defence spokesman said.
On Wednesday night at around 21:00 hours, Pakistani troops violated ceasefire and fired on Indian posts along LoC in Mendhar sub-sector of Poonch district, he said.
They fired automatic weapons and medium mortar shells. Indian troops fired back resulting in exchanges which continued till 23:05 hours, he said, adding that there was no loss of life or injury to anyone in the firing.
There were two ceasefire violations on August 13, when Pak troops targeted Narianpur BoP along IB in Samba district and 16 Indian forward posts in Hamirpur, Balakote and Mankote forward areas in Poonch through the night.
Three ceasefire violations took place on August 12 when Pak troops fired on BoPs and Indian posts along Indo-Pak border in Durga Battalion (Poonch), Kothay (Samba) and Hamirpur-Balakote forward areas (Poonch).
On August 12, Pakistani troops opened heavy fire using mortars, rockets and small arms on 11 Indian forward posts along the LoC in Digwar, Mankote and Durga Battalion areas and it continued till next morning triggering heavy exchanges in Poonch.
Three ceasefire violations took place on August 11 when Pak troops fired in different sectors - Alfa Machial BoP in Jammu, Balakote-Mendhar in Poonch and Durga Battalion in Poonch district.
A jawan received bullet injuries in Pak firing at Alfa Machial BoP and was referred to AIIMS, Delhi.
BSF Head Constable Ram Niwas Meena of 200th Battalion was injured in snipper firing on Narainpur BoP area in Samba district along IB on August 5. Meena, who suffered bullet injury in chest, died in AIIMS on August 11.
On August 10, in a major ceasefire violation 3 days after killing of five jawans in Border Action Team attack, Pakistani troops targeted several Indian posts by firing 7,000 rounds of heavy Pika ammunition and mortar shells during seven hours of firing along LoC in Poonch district.
Pakistan troops in BAT attack on Indian Patrol near Sarla Post along LoC in Poonch district and killed 5 jawans and injured another.
With inputs from PTI
Image: BSF troops patrol along the Line of Control in Jammu and Kashmir
Photograph: Reuters