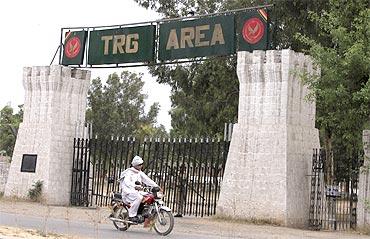 The Tehrik-e-Taliban Pakistan has claimed responsibility for the suicide attack on an elite Pakistani army training centre at Mardan in the country's northwest region.
The suicide bomber unleashed his lethal payload in the midst of a parade, killing 27 soldiers and wounding 40 others.
"It was a suicide attack. The teenage bomber came on foot and was wearing a school uniform," senior police officer Abdullah Khan said.
Talking to rediff.com over the phone from an undisclosed location, TTP spokesperson Ihsanullah Ihsan said, "We proudly claim responsibility for the Mardan attack; we sent the Fidayeen (suicide bomber) and he successfully carried out the attack."
The attack has seriously undermined claims by the Pakistan government that the Taliban have been uprooted from areas like Swat, Mardan and other parts of Khyber Pakhtunkhwa province.
"This is our message to those who claimed that the Taliban have been booted out. It should be clear in everyone's mind that a halt in attacks does not mean the Taliban has been defeated. Sometimes, there is a break in attacks due to a change in planning and strategy," he said.
"We can target soldiers everywhere but by attacking such a secure place, we want to convey a message that there is no area impossible for the Taliban to target. Targeting recruits would discourage parents from sending their children to an army that fights against the Mujahideen," Ihsan said. 
The attack on the Punjab Regimental Centre was one of the worst strikes on the Pakistan army, which has been involved in operations to flush out Taliban militants from border areas.
The blast from the explosives, apparently carried in a school bag, was so devastating that it blew up soldiers taking part in the parade, scattering their limbs, eyewitnesses said. According to the police, an examination of the body parts at the scene indicated that the bomber was a boy aged around 15.
It was not immediately clear how the bomber got entry into the heavily guarded centre undetected. An attack on the same facility in 2006 had killed 35 soldiers.
Mardan is 50 kilometers away from the Mohmand tribal district where the army recently launched a major attack. Officials have said more than 25,000 people have fled the area in the past one week.
Prime Minister Yousuf Raza Gilani condemned the attack, saying, "Such cowardly attacks cannot affect the morale of the security agencies and the resolve of the nation to eradicate terrorism." 
With additional inputs from PTI
Image: A file photo of the paramilitary training centre in Mardan | Photograph: Faisal Mahmood/Reuters