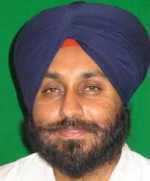 Seven policemen of the elite force of Pakistan have been suspended from service for leaving Punjab Deputy Chief Minister Sukhbir Singh Badal and his delegation unguarded while they went to have dinner at a reception in Lahore, officials said.
The incident occurred when a group of businessmen hosted a dinner for Badal and his 45-member delegation at the Royal Country Palm Club on Wednesday.
The elite force policemen of Pakistan's Punjab province deputed to guard the Indian delegation rushed off to have dinner, leaving the Indian
delegation unprotected. Punjab police chief Haji Habibur Rehman had taken serious note of the "security lapse" and ordered an inquiry.
DIG (operations) Rai Tahir recorded the statements of the policemen involved in the incident.
Tahir found Inspector Muhammad Akmal and six other policemen responsible for the security lapse and suspended them from service. He also issued them notices to explain why action should not be taken against them.
Badal and his delegation left for home on Friday after a five-day visit to Pakistan's Punjab province that was aimed at boosting cooperation between the two sides.