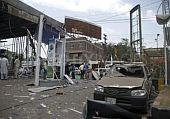 A Pakistani court has given the death sentence to the mastermind of a 2010 terror attack on a Sufi shrine in Punjab province that killed over 50 people.

An anti-terrorism court in Dera Ghazi Khan district, 400 km from Lahore, on Wednesday gave the death sentence on 52 counts to Behram alias Sufi Baba, who was convicted of masterminding the attack on Hazrat Sakhi Sarwar shrine.
The court awarded life imprisonment to Muhammad Omar, a teenager would-be suicide bomber who was captured during the attack.
Omar was injured after the first blast and his suicide jacket did not explode completely.
Four other men accused of involvement in the attack were acquitted for lack of evidence
A large number of people were present in the shrine when a blast ripped through it in April 2010.