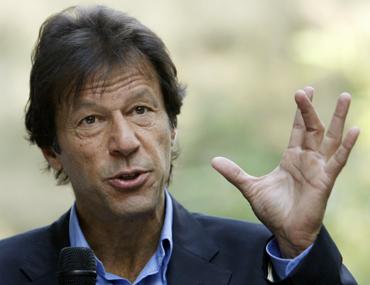 In a major relief for cricketer-turned-politician Imran Khan, Pakistan's supreme court on Wednesday withdrew the contempt of court notice against him. A three-member bench headed by Justice Anwar Zaheer Jamali discharged the notice after hearing the arguments of Attorney General Munir A Malik in the case who said that it is not the matter of disobedience.
Khan, 60, had run into trouble with the assertive judiciary because of a press statement issued by him after the May 11 general elections.
The Pakistan Tehrik-e-Insaf chief had later said the statement was made in good faith wherein the reference to the judiciary was for the returning officers and district returning officers belonging to the subordinate judiciary assigned to the election process.
However, the supreme court issued a notice saying Khan had apparently tried to incite hatred against the judges in his interaction with the media.
Justice Ejaz Chaudhry, who heard the matter, said the term "shameful" is abusive if used against the judiciary. Khan's prosecutor Hamid Khan mentioned that the word "shameful" was used for the presiding officers functioning in May 11 elections and not for the judiciary.