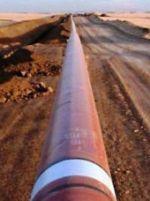 President Asif Ali Zardari will leave on a day-long visit to Iran on Monday to formally inaugurate work on the Pakistan-Iran gas pipeline despite the US threat of possible sanctions over Tehran's nuclear programme.
Zardari and his Iranian counterpart Mahmoud Ahmadinejad are set to participate in the groundbreaking ceremony for the Pakistani section of the pipeline at Gabd in Iran.
Media reports said Zardari would be accompanied by a 300-member delegation, including the foreign minister, petroleum minister and national Assembly speaker.
Several heads of state and government have been invited to the ceremony but it was not clear whether they would attend in the face of US opposition to the much-delayed USD 7.5 billion project.
The groundbreaking ceremony will mark the start of work on the 781-km Pakistani section of the pipeline to be built at a cost of USD 1.5 billion.
Iran will provide a USD 500 million loan for the project.
The pipeline on the Iranian side is almost complete.
The US has called on Pakistan to abandon the pipeline project, saying it has offered alternative solutions to the country's energy requirements.
US Ambassador Richard Olson has said Pakistan should focus on the Turkmenistan-Afghanistan-Pakistan-India gas pipeline project.
An Iranian-Pakistani consortium will complete the project and Pakistan is expected to start receiving gas after the pipeline is completed in December 2014. Iran will supply 750 million cubic feet of gas a day to Pakistan.
The two Presidents will also sign an accord for a 400'000-barrel capacity oil refinery to be set up at Gwadar in Pakistan's Balochistan province. This is Zardari's second visit to Iran in the past two weeks.
Despite international pressure' Zardari has said the gas pipeline is very important for meeting Pakistan's energy needs.
He said the Pakistan People's Party-led government will never compromise on projects that are in the national interest.
Presidential spokesman Farhatullah Babar said the world community should realise the pipeline was being built only to meet the energy needs of Pakistan and was being executed by two sovereign states.
"The project will bring economic prosperity, provide better opportunities to the people and help defeat militancy," Babar was quoted as saying by the Dawn newspaper.