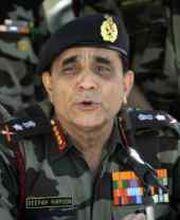 Noting that infiltration attempts by terrorists from Pakistan will continue, Indian Army chief General Deepak Kapoor said on Tuesday that the solution to the problem lies with the neighbour as it was helping them to sneak into Indian territory.
"The solution to this problem lies with our neighbouring country as they provide support to these terrorists for infiltration," he told journalists after handing over the charge of chairman, chiefs of staff committee to Air Chief Marshal P V Naik in New Delhi ahead of his retirement on Tuesday.
Kapoor was asked if there was any solution to the problem of terrorists infiltrating from Pakistan into India.
He said the militants would continue to infiltrate in future also as they had the support of the "organisation on the other side".
The army chief ruled out taking any action against terrorists before they entered the Indian territory and said, "We can't take action against them till the time they cross over to our side."
Commenting on the recent bid by militants to infiltrate into Jammu and Kashmir, Kapoor said, "When they tried to infiltrate, we detected them. After detection, we engaged them, and eight militants were killed. The remaining went back to the other side of the Line of Control as our troops were alert."
Eight militants were killed by security forces during an encounter along the Line of Control in Kupwara district in Jammu and Kashmir last week.
Asked if India was upgrading its military infrastructure and presence in the Northeast to prepare for a future conflict with China, he said, "You would be wrong if you talk about the possible conflict between the two countries. It is not like that at all. It is a matter of trying to develop our capabilities to meet our challenges."
Kapoor said the armed forces would continue to upgrade their preparedness to meet any challenge to the country's sovereignty.
On whether the armed forces should have a chief of defence staff, he said, "That is a decision of the Government of India. They will have to do it with due consideration and deliberation."
Image: Army chief General Deepak Kapoor