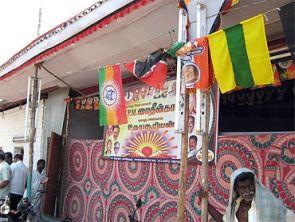 More than eighty-two Dravida Munnetra Kazhagam members were admitted to the ErodeGovernmentHospital with symptoms of food poisoning after they consumed 'chicken briyani' at a party meeting, police said on Monday.
The meeting was organised by DMK district secretary and former minister N K K P Raja on Sunday in connection with organisational polls in the district.
The chicken delicacy was served after the meeting was over and some of those who consumed it later started vomiting and fainted, sources said.
Hospital sources said food poisoning was the main cause of the incident, adding, while four women were discharged early on Monday, the rest were discharged last night.