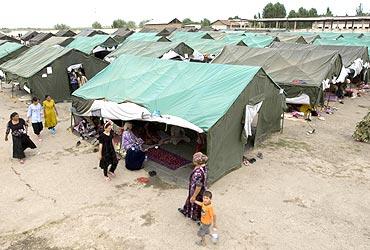 More than two thousand people have been feared killed and several thousand injured in inter-ethnic violence in the South Kyrgyzstan cities of Osh and Jalalabad, although official figures are 'at least ten times less', acting President Rosa Otunbayeva conceded on Friday.
She visited the country's southern areas, which have been torn by ethnic violence, and pledged to rebuild the Uzbek neighbourhoods devastated by the fighting.
The conflict has displaced over four lakh members of the minority Uzbek community, of which one lakh have taken refuge in neighbouring Uzbekistan.
Russian President Dmitry Medvedev has ordered massive humanitarian aid to Uzbekistan, which is facing the brunt of refugee influx in the volatile Ferghana Valley.
The United Nations High Commissioner for Refugees has said that nearly 300,000 people had been internally displaced due to ethnic violence in southern Kyrgyzstan while an estimated 100,000 had fled to neighbouring Uzbekistan.
Most of the internally displaced people have found shelter with families and host communities but some 40,000 people are in need of shelter, according to the UNHCR, which also warns that the situation in the town of Osh and nearby villages appears to be volatile.
The situation is also tense near the town of Jalalabad, where sporadic clashes have been reported. UN special advisers have already warned of the possibility of ethnic cleansing with ethnic Uzbeks being the vulnerable group.
Image: A refugee camp for ethnic Uzbeks fleeing from clashes in Osh | Photograph: Shamil Zhumatov/Reuters