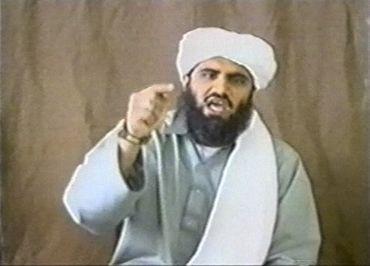 Sulaiman Abu Ghaith, the son-in-law of Osama bin Laden who once served as a spokesman for the Al Qaeda, has been captured and brought to the United States, where he pleaded not guilty at his arraignment in a court on Friday after being charged with conspiracy to kill Americans.
47 year-old Ghaith, who is married to one of bin Laden's daughters, Fatima, appeared before Judge Lewis A Kaplan of US District Court in the cavernous ceremonial courtroom in Lower Manhattan, only blocks from the site of the 9/11 terror attack.
Ghaith, a slight, trim man with a grey beard and dressed in a blue prison smock, barely spoke aside from some one-word replies to questions from the judge during the 20-minute arraignment. His lawyer pleaded not guilty on his behalf, the New York Times reported.
Federal prosecutors asked that Abu Ghaith remain in custody. His lawyer did not challenge the request, but left open the possibility of making a bail application later.
The judge said he would set a trial date of April 8. Prosecutors said a trial would last about three weeks.
US Justice Department officials described Ghaith as a propagandist who they believe has not had an operational role in Al Qaeda for years and did not participate in the attacks on September 11, 2001, or in any plots against the US.
But one law enforcement official said that Ghaith was the most senior Qaeda figure to face criminal trial in New York since America's war against the terrorist network began.
He was married to one of Bin Laden's daughters, Fatima, and the indictment alleges a working relationship with the terrorist group's leader, who was killed by US forces in Pakistan in 2011.
"Among other things, Abu Ghaith urged others to swear allegiance to bin Laden, spoke on behalf of and in support of Al Qaeda's mission, and warned that attacks similar to those of September 11, 2001 would continue," according to the indictment.
John P Cronan, one of the prosecutors, told Judge Kaplan that Ghaith made extensive comments to law enforcement officials after his arrest. Abu Ghaith gave an "extensive post-arrest statement" that totaled 22 pages and arrived in the US on March 1, Cronan said.
Image: Osama's son-in-law Suleiman Abu Ghaith appears in this still image taken from an undated video address.
Photograph: Reuters