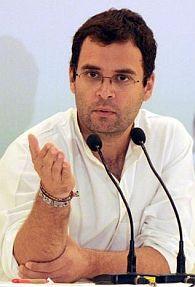 Interacting with representatives from NGOs, Congress leader Rahul Gandhi on Monday asked opposition parties to fix a date to help government pass bills on which there is general consensus.
Some of the delegation members, raising the issue of the disabled, said when they protest against non-passage of disability bill, water canons are used against them, prompting Gandhi to say "if they tell that they will chase you away with water canons, you call me to sit with you there."
Leading the pack of NGOs, Nikhil Dey said he fails to understand what is the problem of political parties coming together to pass those bills on which there is a consensus.
"Political parties should fix a day and pass the non-contentious bills after the Vote on Account," Dey said.
Agreeing with the demand, Gandhi said, "I will employ my full energy in passing these bills. I am with you and accept cent percent whatever you are saying. Your demands are right.
Parliament should run and pass these bills...You continue to do what you are doing. Build public opinion for the bills.
"All these bills can change the country in different ways. These are the consensus bills which will benefit the people of India. I urge the Opposition that decide a day and help us in passing these bills...these are important bills," Gandhi said.
The Congress vice president interacted with members of different NGOs who were making demands for early passage of the new Disability bill, Street Vendors Bill, Whistleblower Law and others.
Rahul Gandhi, who had given a push to the 'one-rank, one-pension' demand of ex-servicemen, hailed as "historic" the government's decision to accept the long-standing plea with Finance Minister P Chidambaram making an announcement on the issue in the interim budget.
"A number of delegations have met me on the one-rank, one-pensions (issue) in last many days. All of them said it is a very necessary and historic step. Our forces are always ready to fight for the nation and people...It is our duty that we provide them all support.
"I thank that the government, the prime minister and the Congress president for taking this historic step. Our government is fully behind them. They always stand behind the nation," he told reporters at 10 Janpath, the residence of Sonia Gandhi.
Presenting the interim budget today, Chidambaram said the government would transfer Rs 500 crore to the defence pension account for implementing 'one rank, one pension' scheme.
The decision, which is expected to benefit around three million defence pensioners, will come into effect from fiscal 2014-2015.
Last week, the Congress Vice President had backed the demand and assured a delegation of ex-servicemen that he will make all efforts to ensure it is met at the earliest.
"I am on your side. I understand your concerns. You give your life for the country, Iwill do all that I can to see that your demands are met," Gandhi had told a gathering of 1000-odd ex-servicemen during an interaction on February 14.
Delegations of ex-servicemen from Haryana, Rajasthan, Himachal Pradesh and Punjab had met Gandhi.
Ex-servicemen and families of serving defence personnel are an electorally important vote bank especially in these states.
'One rank, one pension' scheme will ensure that soldiers of the same rank and the same length of service receive the same pension, irrespective of their retirement date.
Hailing the decision, Union Minister Rajiv Shukla said, "It is a good decision. It should be appreciated. It was taken following the initiative taken by Rahul Gandhi in the matter."