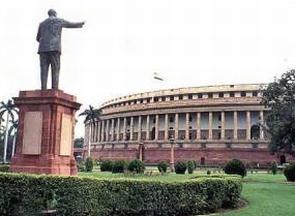 Three bills were introduced in Lok Sabha on Tuesday amid uproar with members from Left parties trooping into the Well to protest against rising prices of onion while other members raised the Telangana issue.
There was no Question Hour in the Lok Sabha as the House decided to take up the crucial Food Security Bill for discussion and passage after tabling of important papers and introduction of bills.
After obituary references, members from the Left parties walked into the Well and shouted slogans against increase in price of onion and essential commodities. They held placards asking the government to control the prices.
A Communist Party of India member from Tamil Nadu held a placard saying the government should not attend the Commonwealth Summit in Sri Lanka.
Telugu Desam Party and anti-Telangana Congress members demanded justice for Andhra Pradesh. Congress members were on their feet and held placards saying, "We want a united Andhra Pradesh", "Save Andhra Pradesh".
Amid din, Minister of State for Civil Aviation K C Venugopal introduced the Rajiv Gandhi National Aviation University Bill, 2013 and Civil Aviation Authority of India Bill, 2013.
Saugata Roy of the TMC opposed the introduction of the Civil Aviation Authority of India Bill, 2013 and said it will create bureaucratic hurdles. "The bill is not necessary at all and will enhance privatisation," he said.
Human Resource Development Minister M M Pallam Raju introduced the Indira Gandhi National University for Women Bill, 2013. With the din continuing, Speaker Meira Kumar adjourned the House till 11:30 am.
When the House reassembled, the issue of missing files relating to coal-gate led to uproar with the Bharatiya Janata Party demanding an immediate response from Prime Minister Manmohan Singh.
The House was then adjourned till noon, only to be adjourned again till 1.00 pm amid renewed demands for a response from the PM.