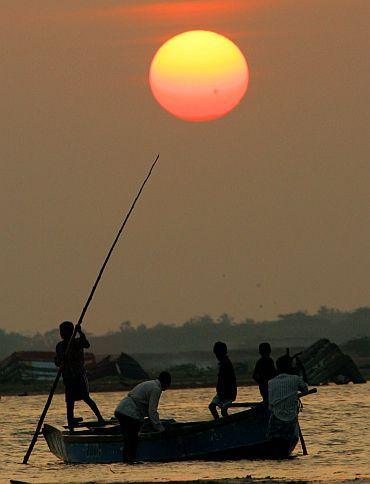 More than 120 Indian fishermen, arrested by Sri Lankan Navy in the past several months, were released on Friday in line with the reciprocal agreement reached between the two countries to set free detained fishermen.
About 160 Sri Lankan fishermen and four vessels would be released from India and 236 Indian fishermen and 90 boats by the latter as part of the pact ahead of the proposed January 20 talks between fishermen associations of both the countries.
A first batch of fifty-one Tamil Nadu fishermen and 52 Sri Lankans, detained in the state, were repatriated concurrently on Thursday.
As many as 111 fishermen of Nagapattinam, ordered to be set free by a Sri Lankan court on January 13, were released from a prison in Jaffna on Friday and they would reach here in two days, police in Rameswaram said, quoting information received by them.
In another court development, ten fishermen from Mandapam near Rameswaram, arrested on January 4, were ordered to be released by Mannar Magistrate Anandhi Kanagarathimam.
However, the remand of 13 fishermen of Rameswaram and 17 from Jegathapattinam in Pudukottai District was extended by a court in Mallaagam in Sri lanka till January 29.
They were arrested on November 30 last year along with four boats on the charge of straying into Sri Lankan waters.