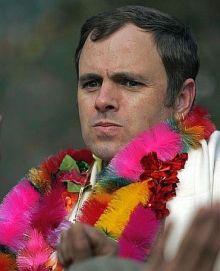 Jammu and Kashmir Chief Minister Omar Abdullah on Monday made it clear that reduction of footprints of security forces and phased withdrawal only needs a "courageous statesman" and not referendum.
His remarks came in an apparent reference to Aam Aadmi Party leader Prashant Bhushan's comment where he had sought a referendum to ask people of Kashmir whether they want army for handling internal security.
"Reduction of the footprint of security forces and phased revocation of AFSPA doesn't need a referendum, just a courageous statesman to decide," Omar said on the micro-blogging site Twitter.
He made it clear that governments were elected to power for governance and decision making only.
"Governments get a mandate to govern and decide, they don't need to conduct a referendum before every tricky decision. Leaders must lead," Omar said.
The Omar Abdullah-led coalition which completed five years in office on Sunday had taken the issue of reducing the footprints of security forces on a war footing and as many as 52 bunkers were removed from the Kashmir Valley during the period.
Omar Abdullah government has been pressing for phased withdrawal of Armed Forces Special Powers Act and has made several appeals to the Centre for taking the initiative for the people of the state.
He had even suggested four district -- two each in Kashmir and Jammu -- to begin the phased withdrawal of the act, which empowers army with search, seizure and arrest options.
Image: Jammu and Kashmir CM Omar Abdullah