At least 10 persons, including four cops, were injure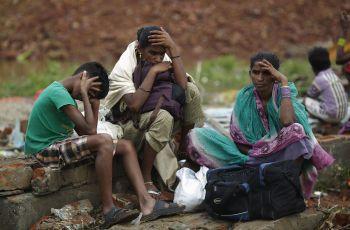 d when police resorted to lathicharge on Tuesday to chase away a mob protesting alleged diversion of kerosene meant for relief at Chikiti in Odisha's cyclone-hit Ganjam district.
A large number of people staged a dharna in front of the Chikiti civic body office demanding arrest of culprits and seizure of kerosene which were being allegedly diverted from nearby Kalabada village to Andhra Pradesh, police said.
As police intervened to disperse the protesters, they turned their ire on the cops after which police resorted to lathicharge, Berhampur Superintendent of Police, Anirudha Singh said.
Altogether nine persons were arrested and the injured were undergoing treatment in the local hospital, he said.
The people alleged that on having protested about diversion of relief kerosene meant for cyclone affected people in Ganjam district, they were attacked by three persons from Kalabada village.
Three platoons (about 100 personnel) of armed police were deployed in the area and the situation was under control, Singh said.
Meanwhile, the Ganjam district administration had issued order for arresting those indulging in diversion or black marketing of relief material under Essential Commodities Maintenance Act.
District collector Kishan Kumar has advised people to speak to him directly on two helpline numbers whenever they found irregularities in distribution of relief material.
Image: A family waits to board a boat as they return to their villages after Cyclone Phailin hit Sunapur village in Ganjam district.
Photograph: Adnan Abidi/Reuters