Sheela Bhatt on the prime minister's dinner for President Obama.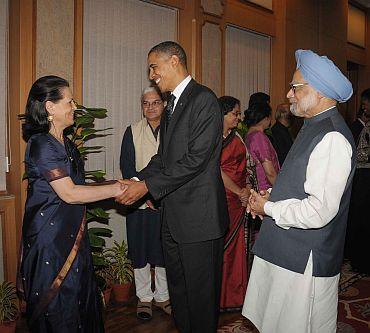 Lilting tunes wafted across the lush green lawns of Prime Minister Manmohan Singh's [ Images ] home as he hosted a private dinner on Sunday night for United States President Barack Obama [ Images ] and his wife Michelle.
The venue was elegantly decorated with marigold flowers and diyas.
Siddharth Vardarajan, senior editor of The Hindu newspaper, who attended the event, told Rediff.com, "The PM's residence was beautifully decorated with diyas and marigold flowers. The walk from Panchvati Hall (inside the residence complex) to the green lawns in front of his house was elegantly decorated. In a way, it was unusual that guests could mingle with each other before the dinner started, which is normally not the case at such formal dinners."
Jaideep Sarkar [ Images ], Dr Singh's private secretary, had organised the event.
Twentyfour camels stood on both sides of the lawn at 7, Race Course Road, Dr Singh's home.
The Border Security Force's Camel Band and the Naval Band made all the difference to the event, guests said.
Mahatma Gandhi's [ Images ] favourite bhajan, Vaishnav Jan To Tene Kahiye played by the Naval and BSF bands was heard with rapt attention by Obama, a self-confessed disciple of the Father of the Nation.
This was followed by Manna De's classic number from B R Chopra's film Waqt: O Meri Zohra Jabeen.
The event started late thanks to Dr Singh and Obama's one-to-one meeting without any aides.
Without doubt, the high table was carefully choreographed. Dr Singh, his wife Gursharan Kaur, President Obama, Michelle Obama [ Images ], Congress party President Sonia Gandhi [ Images ], Congress General Secretary Rahul Gandhi [ Images ] and Finance Minister Pranab Mukherjee [ Images ] were seated at the lead table.
At the next table sat senior Bharatiya Janata Party [ Images ] leader L K Advani [ Images ] with Jammu and Kashmir [ Images ] Chief Minister Omar Abdullah [ Images ].
Besides them sat Defence Minister A K Antony, Home Minister P Chidambaram [ Images ], Foreign Minister S M Krishna [ Images ], Human Resources Development Minister Kapil Sibal [ Images ], Agriculture Minister Sharad Pawar [ Images ], Science and Technology Minister Prithviraj Chavan [ Images ] and Dravida Munnetra Kazhagam [ Images ] MP Kanimozhi, Tamil Nadu Chief Minister M Karunanidhi's [ Images ] daughter.
Leader of the Opposition in the Rajya Sabha Arun Jaitley [ Images ] was present, but without Sushma Swaraj [ Images ], his counterpart in the Lok Sabha. Former National Security Adviser Brajesh Mishra, who attended the dinner, looked very displeased with Obama's 'defence' of Pakistan at the townhall meeting in Mumbai [ Images ] earlier in the day.
Businessmen Azim Premji [ Images ], Ratan Tata [ Images ], Swati Piramal, N R Narayana Murthy [ Images ] were there. But neither Ambani brother was present. None of the Left leaders were present either.
National Security Adviser Shivshankar Menon and S K Lambah, the prime minister's special envoy for Pakistan, were spotted as was Dr Harish Khare, Dr Singh's media advisor.
From the film industry there was no Shahrukh Khan [ Images ], who is shooting for Don 2 in Berlin nor Amitabh Bachchan [ Images ], who is shooting for KBC in Mumbai, at the dinner.
Aamir Khan [ Images ] had Shabana Azmi [ Images ] and Javed Akhtar [ Images ] from Bollywood for company.
World chess champion Viswanathan Anand [ Images ] sat with Aamir Khan, who likes playing chess, and Foreign Secretary Nirupama Rao [ Images ]. None of the Indian Test team was present; they are battling defeat at the Motera ground in Ahmedabad [ Images ].
Besides Business Standard Editor Dr Sanjaya Baru, who once served as Dr Singh's media advisor, and Vardarajan, Rudrangshu Mukherjee (editorial page editor at The Telegraph) Shekhar Gupta (editor-in-chief, Indian Express), Prannoy Roy (NDTV), Tarun Basu (Indo Asian News Service) and Sagarika Ghosh (CNN-IBN) were present.
No one, it appears, was invited from New Delhi's [ Images ] most read newspapers, The Times of India [ Images ] or the Hindustan Times. Times Now, which is brutally critical of the government, was also unrepresented at the dinner.
The dinner started with soups. The main course included green chilly lamb, kakori kababs, Mughlai chicken, gobi, dal dum pukht, tandoori raan, jumbo prawns, fish curry, rice pulao and a variety of Indian breads.
The desserts included kesar phirni and mava poti. The catering was courtesy the Maurya Sheraton hotel where the Obamas are staying in Delhi.
"It was the most elegant dinner ever hosted by Dr Manmohan Singh," Dr Baru felt.
Three guests told Rediff.com that the food was not bad, but not great either.
Vardarajan said, "It was mild Mughlai food." For vegetarians, gobi subzi, a routine dish at many Delhi homes, was served.
Ahead of the dinner, Dr Singh and Obama had a one-on-one meeting for about 25 minutes during which the two leaders are understood to have taken stock of bilateral ties and ways to push India-US relations to higher levels of strategic partnership.
Sonia was introduced to Obama by Prime Minister Singh [ Images ]; Michelle -- who wore a black dress to the dinner -- joined them a little later with Gursharan Kaur.
Other guests included Indian Ambassador to the US Meera Shankar and Jamia Millia Vice-Chancellor Najeeb Jung, both 1973 vintage civil service officers, and younger members of the Lok Sabha Priya Dutt [ Images ] (Mumbai North Central) and Meenakshi Natarajan (Mandsaur).
The tables were named after men of letters with an Indian connection like the late New York Times executive editor Abe Rosenthal (who won a Pulitzer Prize for his reportage from India), economists John Kenneth Galbraith and Robert McNamara and Indian Americans of note like Nobel Laureate Subramanian Chandrasekhar and astronaut Kalpana Chawla [ Images ].
There were no after-dinner speeches.
Image: Congress party President Sonia Gandhi greets US President Barack Obama at Prime Minister Manmohan Singh's dinner in New Delhi on Sunday. Photograph: SnapsIndia. Additional inputs: PTI