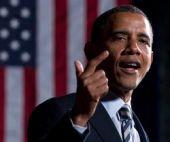 United States President Barack Obama has signed into law the annual defence policy bill, authorising $633 billion (Rs 34,40,355 crore) in defence spending for 2013.
Obama in a signing statement said that he is doing so even as he has strong reservations on several provisions of National Defence Authorisation Act 2013.
The White House had earlier threatened to veto the bill.
This provides Department of Defence with a spending threshold of $633 billion for 2013.
"Our constitution does not afford the president the opportunity to approve or reject statutory sections one by one. I am empowered either to sign the bill, or reject it, as a whole.
"In this case, though I continue to oppose certain sections of the act, the need to renew critical defence authorities and funding was too great to ignore," Obama explained.
In a time when all public servants recognise the need to eliminate wasteful or duplicative spending, various sections in the act limit the defence department's ability to direct scarce resources towards the highest priorities for our national security, he said.
For example, restrictions on the defence department's ability to retire unneeded ships and aircraft will divert scarce resources needed for readiness and result in future unfunded liabilities.
Additionally, the department has endeavoured to constrain manpower costs by recommending prudent cost sharing reforms in its health care programs.
By failing to allow some of these cost savings measures, the Congress may force reductions in the overall size of the military forces, he said.
Obama said several provisions in the bill also raise constitutional concerns.
For instance one section places limits on the military's authority to transfer third country nationals currently held at the detention facility in Parwan, Afghanistan.