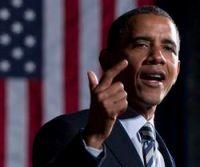 United States President Barack Obama, who pledged that enacting comprehensive immigration reform would be a priority in his second term, has rejected a Republican-sponsored immigration bill that would have created a new green card category for foreign students, reports Aziz Haniffa.
The White House has rejected a Republican-sponsored immigration bill, meant for foreign graduates with advanced degrees in STEM (science, technology, engineering, and mathematics) subjects from American universities, arguing that it's not comprehensive enough.
The White House in responding to the GOP-sponsored bill crafted by House Majority Leader Eric Cantor and Majority Whip, Kevin McCarthy and introduced by Congressman Lamar Smith, chairman of the House Judiciary Committee, acknowledged that "the administration values reforms to attract the next generation of highly-skilled immigrants, including legislation to attract and retain foreign students who graduate with advanced science, technology, engineering, and mathematics (STEM) degrees."
However, it said, "the administration opposes House passage of H.R. 6429," noting that "this legislation, if enacted, would allocate immigrant visas for advanced graduates of a limited set of STEM degree programs, would offer a limited number of visas for families through the "V" nonimmigrant visa program, and would eliminate the long-standing Diversity Visa program that makes immigrant visas available to certain individuals from countries with low rates of immigration to the United States."
It is to be noted here that China and India are not eligible under the Diversity Visa program since both countries along with Mexico have the highest rates of immigration to the US.
The White House said, "The administration is deeply committed to building a 21st-century immigration system that meets the nation's economic and security needs through common-sense, comprehensive immigration reform."
"As a part of immigration reform, the administration strongly supports legislation to attract and retain foreign students who graduate with advanced STEM degrees, to establish a start-up visa for foreign-born entrepreneurs to start businesses and create jobs, and to reform the employment-based immigration system to better meet the needs of the US economy."
However, it reiterated that "the administration does not support narrowly tailored proposals that do not meet the president's long-term objectives with respect to comprehensive immigration reform."
But it lauded the Congress, saying it "appears to be ready to begin serious debate on the need to fix our broken immigration system and looks forward to working with both Democrats and Republicans to enact a common-sense approach that includes reforms to the legal immigration system."
"Such an approach must provide for attracting and retaining highly skilled immigrants and uniting Americans with their family members more quickly, as well as other important priorities such as establishing a pathway for undocumented individuals to earn their citizenship, holding employers accountable for breaking the law, and continuing efforts to strengthen the nation's robust enforcement system."
At his first news conference last week after his re-election on November 6, Obama in declaring that comprehensive immigration reform would be a priority in his second term, said, "My expectation is, that we will begin the process in Congress very soon after my inauguration."
Sources told Rediff.com that the White House rejection of the GOP efforts was aimed at not ceding to the Republicans in leading the way and pre-empting the Democrats in introducing immigration reform, which the latter see as a strategic move to pass some non-controversial immigration legislation, while the White House and Democrats want to first pass the DREAM act that would envisage undocumented students who were brought to the US by their parents who entered the country illegally, would be afforded a pathway to legalisation.
Just before the election, Obama afforded undocumented students a reprieve by issuing an executive order affording them Deferred Action in the wake of the DREAM Act being torpedoed by the Republicans, which led to much angst by the Latinos who voted overwhelmingly in favour of re-electing the psresident by a margin on 71 to 29 over his Republican presidential nominee Mitt Romney who had warned he would veto the DREAM Act and had said undocumented immigration should 'self-deport' that incensed the Hispanic community.
The Republicans in garnering support for the STEM Jobs Act had mobilised some of the heavyweights in the technology industry who have been calling for the US to retain foreign students with STEM subject doctorates so that the country can retain its competitive edge and not lose these students to foreign companies directly in competition with American firms.
Smith in introducing his bill, said, "When it comes to STEM fields -- science, technology, engineering and math -- American universities set the standard. Our STEM graduates create the innovations and new businesses that fuel our economic growth and create jobs.
He said, "Many of the world's top students come to the US to obtain advanced STEM degrees. But what happens to these foreign students after they graduate? Under the current system, we educate scientists and engineers only to send them back home where they often work for our competitors."
Smith argued, "We could boost economic growth and spur job creation by enabling American employers to hire some of the best and brightest graduates of US universities. These students become entrepreneurs, patent holders and job creators."
"The STEM Jobs Act makes available 55,000 immigrant visas a year for foreign graduates of American universities with advanced degrees in STEM fields," he said, and noted, "Three-quarters of likely voters strongly support such legislation."
Smith also said that a wide range of trade associations have endorsed this legislation, including, The Institute for Electrical and Electronics Engineers; The US Chamber of Commerce; Compete America; The Information Technology Industry Council; and The Society for Human Resource Management.
He said, "To protect American workers, employers who hire STEM graduates must advertise the position and if a qualified American worker is available, the STEM graduate will not be hired. This bill makes our immigration system smarter by admitting those who have the education and skills America needs. STEM visas are substituted for diversity visas, which invite fraud and pose a security risk."
Smith reiterated, "The STEM Jobs Act generates jobs, increases economic growth and benefits American businesses. What more do we want? Let's put the interests of our country first and support this legislation." 
By eliminating the diversity visa lottery, the STEM Jobs Act reallocates up to 55,000 green cards a year to the top foreign graduates of American universities with STEM doctorates. Any remaining green cards are then made available to foreign graduates with master's degrees in STEM fields.
"In a global economy," he warned, "we cannot afford to educate these foreign graduates in the US and then send them back home to work for our competitors. For America to be to the world's economic leader, we must have access to the world's best talent."