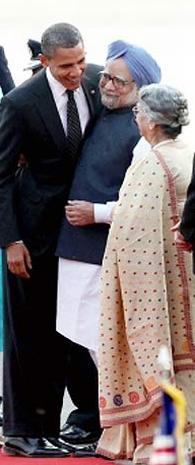 The meeting between Prime Minister Manmohan Singh and United States President Barack Obama will be held as per schedule on September 27 at the White House, despite the latter being busy due to the ongoing Syrian crisis.
While no formal bilateral Obama-Dr Singh meeting has been planned on the sidelines of the G-20 Summit in St Petersburg, Russia, the two leaders are expected to interact on its margins this week, informed officials.
Officials from both the countries on Wednesday ruled out the possibility of any changes in the pre-scheduled September 27 meeting between Obama and Dr Singh at the White House.
Obama has decided to take military action against the Assad regime of Syria and has sought authorisation from the Congress in this regard.
The Congress is expected to vote on it early next week.
While no timeline of the military attack has been announced, Obama is expected to order military action only after he receives Congressional authorisation.
The United States, according to Secretary of State John Kerry, has reached out to over a 100 countries, of which 34 nations have promised to support the move.
The Obama administration has also consulted with India, though the two nations have publicly disagreed on the issue.
India insists it will not support any military action against a sovereign nation without the approval of the United Nations Security Council, while the US President has decided to bypass the world body arguing that its two veto-powered members -- Russia and China -- are unwilling to hold the Assad regime accountable for alleged use of chemical weapons.
Dr Singh will address the United Nations General assembly on September 28, according to the latest provisional list of speakers released by the UN.
As per the previous provisional list, the prime minister was scheduled to speak a day earlier on September 27.
The changes are believed to have been made to accommodate Dr Singh's schedule to meet US President Barack Obama.
After his meeting with Obama, Dr Singh is likely to leave Washington for New York the same evening.
Pakistan's Prime Minister Nawaz Sharif would address the UN General Assembly on September 27. This would be his first address to the world body in his second term.
In fact, Sharif would be addressing the General Assembly at a time when Obama would hold the meeting with Dr Singh.