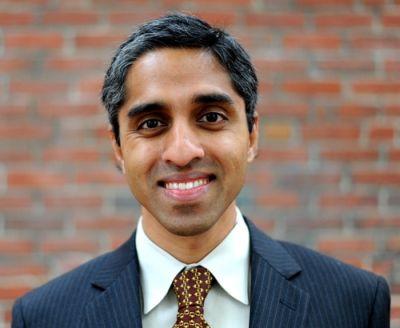 United States President Barack Obama has nominated Indian-American Vivek Murthy for the post of Surgeon General, which a top American lawmaker described as a historic moment for the community across the country.
While Obama had announced his intent to nominate Boston-based Dr Murthy for Surgeon General last week, he has now sent in his formal notification to the US Senate, the White House said on Monday.
If confirmed, Murthy would not only be the first-ever Indian-American to occupy this post but also the youngest ever Surgeon General of the country.
"Vivek Hallegere Murthy, of Massachusetts, to be Medical Director in the Regular Corps of the Public Health Service, subject to qualifications therefore as provided by law and regulations, and to be Surgeon General of the Public Health Service for a term of four years, vice, Regina M Benjamin, resigned," said the White House communication on nomination sent to the Senate.
Congressman Joe Crowley, Vice Chair of the Democratic Caucus and Co-Chair of the Congressional Caucus on India and Indian-Americans, described Obama's nomination as "a historic moment" for Indian-Americans across the country.
"Indian-Americans have made many important contributions to American society, including in the medical field, and it is great to see another well-qualified leader rise in government," Crowley said in a statement.
The surgeon general serves a four-year term and is the administration's top official on public health issues.
"We share a belief that access to quality health care is a basic human right," Brigham president Dr Betsy Nabel said in a statement about Murthy.
"I am confident that he will be a passionate advocate and that he will have an extraordinary impact as our nation's Surgeon General, he said.
Co-founder and president of Doctors for America, a position he has held since 2009, Dr Murthy is a Hospitalist Attending Physician and Instructor in Medicine at Brigham and Women's Hospital at Harvard Medical School, a position he has held since 2006.
In 2011, Dr Murthy was appointed to serve as a Member of the Advisory Group on Prevention, Health Promotion, and Integrative and Public Health.
Dr Murthy has been the Co-founder and Chairman of the Board of TrialNetworks, formerly known as Epernicus, since 2007.
He co-founded VISIONS Worldwide in 1995, a non-profit organisation focused on HIV/AIDS education in India and the United States, where he served as president from 1995 to 2000 and Chairman of the Board from 2000 to 2003.
He received a BA from Harvard University, an MBA from Yale School of Management, and an MD from Yale School of Medicine.
Congratulating Dr Murthy on his nomination to be the next Surgeon General of the United States, Doctors for America Executive Director Dr Alice Chen said that he has a tremendous dedication and commitment to improving the lives and health of Americans.
"He has been a tireless leader in bringing together 16,000 doctors and medical students from all 50 states for the common cause of improving the health of the nation.
"He brings two decades of experience as a champion in improving health, building coalitions, and bringing diverse people together to bring better health to communities," Chen said.
Image: Dr Vivek Murthy