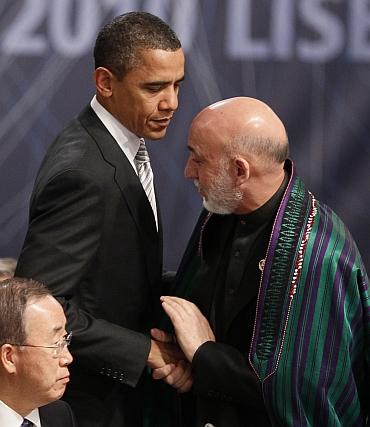 United States resident Barack Obama on Tuesday told his Afghan counterpart Hamid Karzai that America might pull all of its troops out of the war-ravaged country by the year end, but did not rule out the possibility of an agreement on a "limited" post-2014 mission.
Obama conveyed the message to Karzai, who has refused to sign a Bilateral Security Agreement with the US that would have allowed presence of US troops in Afghanistan after this year.
"With regard to the Bilateral Security Agreement, in advance of the NATO Defense Ministerial, President Obama told President Karzai that because he has demonstrated that it is unlikely that he will sign the BSA, the US is moving forward with additional contingency planning," the White House said in a statement after Obama spoke with Karzai over phone.
During the call, Obama said he has asked the Pentagon to ensure that it has adequate plans in place to accomplish an orderly withdrawal by the end of the year should the US not keep any troops in Afghanistan after 2014.
"At the same time, should we have a BSA and a willing and committed partner in the Afghan government, a limited post-2014 mission focused on training, advising, and assisting Afghan forces and going after the remnants of core Al Qaeda could be in the interests of the US and Afghanistan," the statement said.
"Therefore, we will leave open the possibility of concluding a BSA with Afghanistan later this year. However, the longer we go without a BSA, the more challenging it will be to plan and execute any US mission. Furthermore, the longer we go without a BSA, the more likely it will be that any post-2014 US mission will be smaller in scale and ambition."
The US has had troops in Afghanistan since 2001 following the 9/11 terror attacks.
Besides, Obama welcomed the beginning of Afghanistan's presidential campaign season and affirmed the US' support for a fair, credible, timely and Afghan-led process.
"As Afghans soon take the important step of heading to the election polls, they should know that the United States will be committed to supporting the Afghan security forces as they make preparations to secure the Afghan elections," it said.
The two leaders noted the important role that independent Afghan electoral bodies would play in overseeing a historic transfer of power, and the President reiterated that the US would not support any candidate in the elections -- the choice of who leads Afghanistan is for Afghans to make, the statement said.