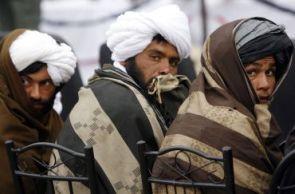 We should be prepared for a phase of increased tensions in India-Pakistan relationship thanks to the evolving situation in Afghanistan, says Shyam Saran.
Any new political dispensation in New Delhi will soon have to grapple with the ongoing political and security transition in Afghanistan with the prospect of being faced, once again, with a renewed and reinvigorated jihadi terror machine nesting in the ungoverned and ungovernable regions of that country. These bases and sanctuaries across its borders will give Pakistan the deniability it had claimed in the pre-9/11 era in engaging in cross-border terrorism against India as an instrument of state policy.
Much will depend on whether the ongoing political transition in Afghanistan takes place in a reasonably smooth manner. There will be presidential elections later this year and parliamentary elections in 2015. It remains to be seen whether they are free, fair and credible. Also, who will emerge as Afghanistan's new president and what political consensus is he able to forge across the country's complex ethnic and tribal spectrum? What role the current president sees for himself in the post-election scenario and how his obvious anxieties concerning his own security may be addressed are also difficult questions to answer.

President Hamid Karzai has refused to sign the status of forces agreement with the United States. The agreement would allow a residual force of some 10,000 International Security Assistance Force personnel to remain in the country after the troop drawdown envisaged to be completed by the end of this year. He wants a new president to take this decision. After threatening Kabul with a so-called "zero option", the Americans seem to have reconciled themselves to concluding the agreement with a new Afghan leader. Virtually all the presidential candidates have expressed themselves in favour of the agreement and that is a good sign.

The US wishes to leave behind a viable political dispensation and a relatively peaceful security situation in Afghanistan through a political agreement with the Taliban, even if this proves to be a temporary palliative. According to reports, what may be on offer to the Taliban could be several governorships in the Pashtun belt in the south and east of the country, and some important ministerial and governmental positions at the centre. Fearful of what the Americans may be cooking up behind his back in direct talks with the Taliban, Karzai appears to have opened his own channels with them, thereby giving the Taliban more bargaining power than they would normally possess.

What this may lead to is an eventual domination of the political stage by the Taliban with all the attendant dangers this will pose to both India and other countries in the region. This would also imply that any residual ISAF will not target the Taliban even if they make advances into the country, since they would now carry a "nationalist" tag, no longer labelled a terrorist entity or a sponsor of terrorism.

The argument being made in Washington is that there is no reason to target the Taliban as long as they do not act as an affiliate of Al Qaeda. This ignores the fact that today the Al Qaeda has morphed into an interconnected network of jihadi groups, sharing a similar - essentially Sunni fundamentalist -- ideology. It will only be a matter of time before, given the opportunity, the Taliban begin to act on a larger regional and global agenda. The US will find itself as much a target of this network as India is likely to become.

The chief beneficiary of any Taliban advance into Afghanistan would indisputably be Pakistan, where the Taliban's Quetta Shura has been based for the last several years, protected and nurtured by the Pakistan Army and the Inter-Services Intelligence. The Pakistanis claim they have learnt their lesson from their earlier misadventure in Afghanistan and are now committed to peace and stability in the country. They also point to the threats they face from groups like the Pakistan Taliban, based in the Pakistan-Afghanistan borderlands, and the possible links these groups may have with the Afghan Taliban. All this may be true. However, in the calculations of the Pakistani political and security elite, these risks are still considered less than those likely to confront the country if India becomes entrenched as a major presence in Afghanistan.

Should India not talk to Pakistan with a view to promoting some understanding concerning the future of Afghanistan? Are there ways in which India can assuage some of Pakistan's security concerns? As early as 2006, as foreign secretary, I was authorised to propose to my Pakistani counterpart a bilateral dialogue on Afghanistan. I offered to give the Pakistani side a complete read-out of our presence in Afghanistan and the various projects and activities we were engaged in. I also referred to Pakistani statements that Pakistan was committed to contributing to Afghanistan's political stability and economic recovery and offered to do some joint projects in infrastructure, education and health as demonstrating our convergent objectives.
There was no response then, and I believe subsequent and similar efforts by my successors have similarly yielded no results. The reality is that Pakistan sees 2014 as an opportunity to get back into a position of strategic advantage vis-a-vis India, which it considered itself to have lost since 9/11. That the situation today is different, that the risks to Pakistan are greater, is no deterrence.
If the above analysis is valid, then India-Pakistan relations are in for a rough ride and we should not become complacent because of progress in trade and some other areas that seems likely in the near future. These ought to be pursued, because they do have a value in themselves; but we should be prepared for a phase of increased tensions in our relations thanks to the evolving situation in Afghanistan. In order to safeguard our interests, we may have to take measures in Afghanistan that would inevitably sharpen the differences between India and Pakistan.
The writer, a former foreign secretary, is currently chairman of the National Security Advisory Board and RIS as well as a senior fellow at the Centre for Policy Research, New Delhi.