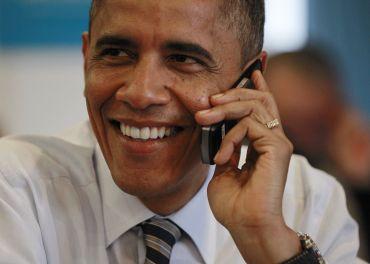 Congratulating his Republican rival Mitt Romney for running a spirited campaign, US President Barack Obama expressed confidence he would win re-election during a surprise stop at a local campaign office to thank volunteers.
"The great thing about these campaigns is after all the TV ads and all the fundraising and all the debates and all the electioneering, it comes down to this. One day and these incredible folks who are working so hard, making phone calls, making sure that people go out to vote. So I just want to say thank you to the American people," Obama said making a stop at one of his Chicago campaign office.
"It's a source of great optimism for me whenever I come to Election Day because I end up having so much confidence in the decency and goodness and wisdom of the very folks who are working so hard trying to move their own small piece of this country forward," he told the pool of reporters accompanying him.
He also congratulated Romney for running a spirited campaign.
"I also want to say to Governor Romney, congratulations on a spirited campaign. I know that his supporters are just as engaged and just as enthusiastic and working just as hard today.
He asked the voters to go out and vote.
"We feel confident we've got the votes to win that it's going to depend ultimately on whether those votes turn out. And so I would encourage everybody on all sides just to make sure that you exercise this precious right that you have that people fought so hard for, for us to have," Obama said.
Obama said he was looking forward to the results.
"I expect that we'll have a good night. But no matter what happens, I just want to say how much I appreciate everybody who has supported me, everybody who has worked so hard on my behalf. And again, I want to congratulate Governor Romney and his team for a hard-fought race as well. OK?" said the US President.
Earlier Obama made phone calls to voters to come out and vote from his campaign office.
Image: U.S. President Barack Obama makes a phone call to a volunteer for his campaign during a visit to a campaign office in Chicago
Photograph: Jason Reed/Reuters