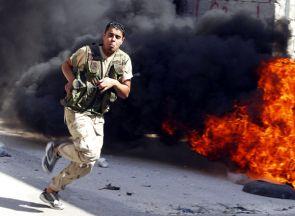 Syrian President Bashar al-Assad has warned that any military attack against his embattled regime would lead to a regional war, as United States President Barack Obama on Tuesday said he is confident of getting Congress' authorisation for military intervention in Syria.
Obama, before meeting with members of US Congress about the possible military strike in Syria, said he believes the America's military plan is appropriate, proportional, limited, and "does not involve boots on the ground." "This is not Iraq, and this is not Afghanistan. I am confident" of getting the Congress to pass a resolution authorising military attack in Syria, he said.
Earlier in an interview with French newspaper Le Figaro, Assad warned that "chaos and extremism will spread" if the US and its Western allies decide to attack Syria.
"Everyone will lose control of the situation once the powder keg explodes". "The risk of a regional war exists," he said.
He said France should consider the consequences of its involvement in military action against Syria. "There will be repercussions, negative ones of course, on the interests of France," Assad said.
Assad's remarks came as Washington and Paris are pushing for a military attack against Syria over the country's alleged use of poison gas against civilians, including an August 21 attack near Damascus the US says killed over 1,400 people.
Syria has repeatedly denied being behind the August 21 attack and accuses rebel fighters of using chemical weapons on government troops.
Meanwhile, hawkish senators John McCain and Lindsey Graham after holding talks with Obama said that they favoured passing a resolution to authorise for a military action against Syria. "A vote against this would be catastrophic in its consequences, not only as far as this issue is concerned, but in the future," Republican Senator McCain told reporters in Washington.