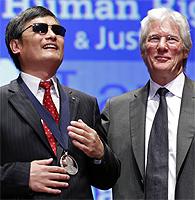 Blind Chinese dissident Chen Guangcheng has accused the New York University of ending his fellowship due to "unrelenting pressure" from China, leaving him and his family stranded.
Guangcheng had dramatically fled to the United States embassy in Beijing from house arrest, sparking a diplomatic crisis between the two nations,
Thanking the NYU for its support, the 41-year-old lawyer-activist in a statement said the university, which is opening its campus in Shanghai, is bowing to pressure from China's ruling Communist Party.
"As early as last August and September, the Chinese Communists had already begun to apply great, unrelenting pressure on New York University, so much so that after we had been in the US just three to four months, NYU was already starting to discuss our departure with us," the South China Morning Post daily quoted Chen as saying in the statement.
"I will never bow my head to evil or to lies. I will always do everything I can for my compatriots back in China who still are not free," he said.
Chen, who crated a sensation last year by sneaking into the US embassy while US Secretary of State Hillary Clinton was visiting Beijing, alleged the CPC's influence in US academia was "far greater than what people imagine".
He was allowed to leave by Chinese leadership under pressure from the US.
"Academic independence and academic freedom in the United States are being greatly threatened by a totalitarian regime," he said.
He said the "Communist rulers" want to disrupt his family's normal life and force him to earn a living so he won't have time for human rights advocacy.
"(But) I will never bow my head to evil or to lies. I will always do everything I can for my compatriots back in China who still are not free," he said in the statement.
Chen has become a rallying point for Chinese dissidents.
After his visit to the US, he had travelled to Germany and Britain to give speeches and collect awards. He is due to travel to Taiwan later in June.
The NYU, however, denied his charge.
NYU spokesman John Beckman said the university was "very discouraged" by Chen's statement, which he said contained speculations that were "both false and contradicted by the well-established facts".
"Chen's fellowship at NYU and its conclusion have had nothing to do with the Chinese government. All fellowships come to an end," he said, quoted by the Post.
He said the NYU had been providing Chen's family with housing, food, health care, insurance and translation services as well as tutorials in law and English-language lessons.
"NYU believes it has been generous in supporting this family, and we are puzzled and saddened to see these false claims directed at us," he said.
NYU is building a joint-venture campus with East China Normal University in Shanghai.
Reacting to Chen's allegations, the Chinese foreign ministry said he may be "fabricating" allegations against China.
"As far as I know, Chen Guangcheng completed his paperwork for study abroad according to the law as a ordinary Chinese citizen," Chinese foreign ministry spokesperson Hua Chuying said while answering a question on Chen's allegations.
"I am not aware it is because whether the information you got was wrong or whether Chen is fabricating something," she told a media briefing today.
Image: Actor Richard Gere with Chinese dissident Chen Guangcheng | Photograph: Kevin Lamarque/Reuters