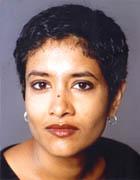 The New York Times has announced that Somini Sengupta has been appointed the newspaper's next Delhi bureau chief.
The decision is historic in that Sengupta, currently the Times' West Africa bureau chief, becomes the first reporter of Indian origin to assume the position.

"Ms Sengupta will take up her position sometime in early 2005," Foreign Editor Susan Chira told rediff.com
Chira acknowledged that no other Indian reporter had run the Delhi bureau, but said "there is no conscious plan for this."

"She is a superb reporter who is eminently qualified and wanted the position and earned it," she said.
She added that David Rohde and Amy Waldman, who currently cover South Asia, would be leaving the region.

Sengupta, who was traveling through Nigeria and unavailable for comment, was born in Calcutta. She graduated with a BA in English and Development Studies from the University of California at Berkeley in 1988, and worked as a radio producer and cocktail waitress before turning to journalism. Her career began in 1992 with a stint in the minority training program at The Los Angeles Times.

She then worked at Newsday for two years before joining The New York Times in 1995. In West Africa, she has closely followed such dramatic stories as the overthrow of Liberian president Charles Taylor and the genocide in Darfur, Sudan.

As the Delhi bureau chief, she follows in the footsteps of some of the Times' most illustrious reporters, including Pulitzer Prize winners A M 'Abe' Rosenthal, Joseph Lelyveld, Barry Bearak and John Burns. Rosenthal and Lelyveld went on to become the newspaper's executive editors.

Sengupta has received the 1997 Newswomen's Club of New York Feature Writing Award. Her work is included in The Poynter Institute's Best Newspaper Writing 2000.