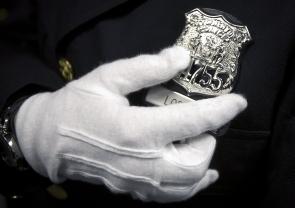 A "shocking" fraud involving 106 people, including former New York city cops and firefighters, who allegedly used the 9/11 terror attack disability benefits worth hundreds of millions of dollars to fund their lavish lifestyles, has been cracked by authorities in New York.
An indictment unsealed on Tuesday by the Manhattan district attorney's office charges 106 people, four of whom are accused of running the massive fraud. The group was headed by Raymond Lavallee, 83, a lawyer who started his career as an agent with the Federal Bureau of Investigation and once served as a senior NassauCounty prosecutor, court papers said.
Lavallee worked most closely with two men: Thomas Hale, 89, a pension consultant who investigators say filled out applications, and Joseph Minerva, 61, a former police officer who works for the Detectives' Endowment Association.
"The brazenness is shocking," Manhattan District Attorney Cyrus Vance told media persons. "The social security disability safety net exists to help those who are unable to help themselves. Many participants cynically manufactured claims of mental illness as a result of September 11th, dishonoring the first responders who did serve their City at the expense of their own health and safety.
"For years, federal taxpayers have unwittingly financed the lifestyles of the defendants charged today," Vance said. The organisers received cash kickbacks of more than $28,000 from each applicant, money that was taken from the recipients' first check from the social security administration, prosecutors said.
"I can only express my disgust at the actions of the individuals involved in this scheme," Police Commissioner Bill Bratton said.
Lawyers for all four men denied the accusations. Prosecutors say 72 police officers, eight firefighters and five corrections officers are among those charged. Four men, including a retired police officer and a disability consultant with a New York detective's union, appeared in court on Tuesday on grand larceny charges.
Two of the four ringleaders of the fraud allegedly coached benefit applicants to falsely describe symptoms of depression and anxiety to doctors they had recruited.
They taught applicants on how to fail memory tests with plausibility and how to dress.
The defendants, allegedly the ringleaders of the fraud operation, were released on bail of up to $1 million. Those men stand accused of coaching the former emergency workers on how to feign mental health problems and fail memory tests in an effort to draw disability benefits, collecting tens of thousands of dollars in kickbacks.
One retired police officer told doctors he suffered panic attacks and was unable to leave his house -- only to post photographs of himself on social media riding a jet ski.
Another retired policeman collected a disability pension for a neck injury -- and then went on to open a martial arts studio.
Image: A New York Police Department graduate polishes her badge backstage before her induction ceremony at Madison Square Garden in New York.
Photograph: Carlo Allegri/Reuters