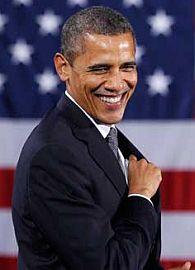 In a bid to allay global outrage after the leak of the United States snooping programme, President Barack Obama has put an end to the surveillance of "foreign leaders of friendly nations" but ruled out scrapping the controversial programme altogether.
Obama, in a major policy speech, announced a series of measures to balance between civil liberties of Americans and people across the globe and meeting the US security and intelligence needs.
"Given the understandable attention that this issue has received, I have made clear to the intelligence community that -- unless there is a compelling national security purpose -- we will not monitor the communications of heads of state and government of our close friends and allies.
"Let me be clear: our intelligence agencies will continue to gather information about the intentions of governments -- as opposed to ordinary citizens -- around the world, in the same way that the intelligence services of every other nation does," he said in his speech wherein he gave details of a month-long review of his government's internet and phone surveillance programmes.
"We will not apologise simply because our services may be more effective. But heads of state and government with whom we work closely, and on whose cooperation we depend, should feel confident that we are treating them as real partners. The changes I've ordered do just that," Obama said.
Revelation of such a secretive programme, as leaked by whistleblower Edward Snowden, had resulted in outrage in some of the key American allies, including France, Germany, Brazil and India. The Brazilian leader cancelled her state visit to the US in protest.
Obama said Snowden's "sensational" revelations could impact US operations for years to come.
"The sensational way in which these disclosures have come out has often shed more heat than light, while revealing methods to our adversaries that could impact our operations in ways that we may not fully understand for years to come.

"I've instructed my national security team, as well as the intelligence community, to work with foreign counterparts to deepen our coordination and cooperation in ways that rebuild trust going forward," he said.

Obama said the State Department will designate a senior officer to implement the new privacy safeguards.
"We will appoint a senior official at the White House to implement the new privacy safeguards that I have announced today. I will devote the resources to centralise and improve the process we use to handle foreign requests for legal assistance, keeping our high standards for privacy while helping foreign partners fight crime and terrorism," he said.