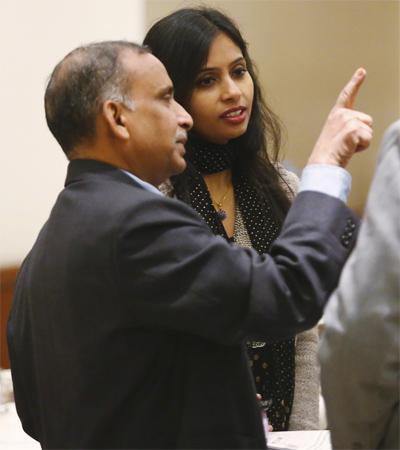 'A senior US diplomat last week asked me when things will go back to normal. I had to tell her that if normalcy meant getting back these perks, it is not going to happen for a very long time, if ever at all,' says Mohan Guruswamy. 'For the Indian public now is outraged that US diplomats have enjoyed all these winking at the rulebook.'
Devyani Khobragade, whose arrest set back United States-India relations quite a bit, is back in India. Two questions then arise: Will she be treated as a heroine? Or will the ministry of external affairs scrutinise her conduct and property returns with the attention they undoubtedly deserve?
With her criminal case still pending, and with her effectively an absconder, she can never return to the US. What will it do to her marriage to a US citizen is a matter of speculation.
In the last week, I have socially met certain senior US embassy officials and have enjoyed their hospitality. They are concerned about just one thing: Will they get back the privileges taken away by India? They and senior Indian diplomats are sanguine that the Khobragade affair will soon be just a storm in a teacup and the US-India partnership can be resumed.
I agree to some extent with that assessment, but the relationship will not exactly go back to where it was. That was a point of inflection, and I think we are now headed for a more undemanding phase in the relationship.
This relationship might even be a better one, as it will be a more equal one.
We are now like an estranged couple trying to work out things by coming together. The past never really goes away. It will always condition our future responses. Ask Hilary Clinton.
The US-India spat has had several consequences. Not the least is that Energy Secretary Ernest Moniz was forced to postpone his India visit as no one of any consequence was going to meet with him here.
If he still came, he would have been fobbed off with a meeting with Veerappa Moily, who is his counterpart here. But then the US has for long got used to meeting persons well above their counterpart. Even assistant secretaries have gotten used to meeting with persons well above their protocol rank.
The visit of the newly installed assistant secretary of state for South and Central Asia, Nisha Desai Biswal, is also now on hold as she was being earmarked just for a meeting with her counterpart, the joint secretary (North America) in the ministry of external affairs.
Reciprocity is the guiding principle now.
Ever since Devyani Khobragade was arrested on the charge of making a wrong declaration to fraudulently obtain a visa for her maid, India has been turning the screw on pampered American diplomats by withdrawing their special privileges and courtesies extended in a calibrated manner to keep the heat on.
Suddenly, many US diplomats have found their old ID cards extending them privileges of entry into all airports and some government offices withdrawn.
The US embassy's usual imports of food and victuals have been severely curtailed and have become subject to the most intrusive customs inspections.
The US embassy has also been told to stop screening movies at the American Centre and operating a restaurant and social club within its premises, as they too are in violation of the Geneva accords.
The consequence of this is that even US Ambassador Nancy Powell, a formidable lady who made and unmade leaders in neighbouring countries, is now subject to a Central Industrial Security Force pat-down at our airports, and her personal baggage subject to an intrusive examination.
And there is no question of her car pulling alongside an aircraft to board, even if it were a chartered or official aircraft.
These are the rules, and India is throwing the rulebook at the Americans with a vengeance. Very senior officials who I met last week concur that it will be very difficult to give the US diplomats their special privileges and most certainly not in a politically charged domestic environment, and in the Right to Information era where no government decision can remain under wraps.
Indian diplomats in the US have never had these privileges and courtesies extended to them there. Even India's then defence minister George Fernandes was body-searched at a US airport. All our recent ambassadors have been subject to pat-downs at US airports and our then ambassador to the UN, Hardeep Puri, once even had his turban removed and looked into.
A senior US diplomat last week asked me when things will go back to normal. I had to tell her that if normalcy meant getting back these perks, it is not going to happen for a very long time, if ever at all.
For the Indian public now is more outraged that US diplomats have enjoyed all these winking at the rulebook without any reciprocal winking at laws in the US.
What apparently rankles the Americans most -- and the New York Times and Washington Post have made frequent and pointed references to it -- is that the US embassy-enforced closure of a public road, by placing concrete barriers to slow down passing cars, has been lifted. The Delhi police just bulldozed these barriers aside and restored the road free for use by the public.
The newspapers pointedly and wrongly refer to this as removing security barriers, forgetting that providing perimeter security is the responsibility of Indian security agencies.
All the police pickets, machinegun nests and patrol cars are in place as before. Only the road encroached upon by the Americans has been cleared.
At this point, it must be let known that the Washington, DC, police closed the use of a vacant lot adjacent to the Indian embassy to embassy cars. This happened some months ago, and we didn't make any fuss about it.
Also, it must be known that the US embassy in New Delhi gets far more security than the Indian embassy in Washington, DC, which doesn't even warrant a uniformed patrolman.
India has lost more lives to jihadi terrorists that the US has, and our embassy in Washington, DC, too deserves a modicum of security.
Things have indeed come to a bad pass. It is true that Devyani Khobragade was violating US laws and had made a fraudulent declaration. But the State Department's Diplomatic Security Service was planning on booking her since June 2013. The South Asia department was in the know of it. They kept this contemplated sting under wraps.
The operation was set in motion even as the Indian foreign secretary was in Washington, DC, for meetings at the State Department. Indian diplomats equate that with perfidy.
The US authorities could have tipped our MEA off that something was amiss and it would be best if India quietly removed the diplomat from the US. Instead, a complex sting was orchestrated, and India embarrassed. That stings.
And India is showing that it too can be a society of laws.
My daughter has coined a new word for what is happening in India over this. She calls it Khobrage. The right rage for the wrong reasons. This Khobrage doesn't seem like going away for a long time.
And when it does, business will not be as usual for the American diplomats here. It will be as it is for Indian diplomats there.
This is what is called reciprocity. But Americans are used to being exceptional and the Indian public will have none of that. Not till it forgets. Forgiving is far easier.
Mohan Guruswamy is chairman and founder of the Centre for Policy Alternatives, a New Delhi think-tank.
Image: Dr Devyani Khobragade, right, and her father retired IAS officer Uttam Khobragade at the Maharashtra Sadan guesthouse in New Delhi after their meeting with Foreign Minister Salman Khurshid on January 11, 2014. Photograph: Anindito Mukherjee/Reuters.