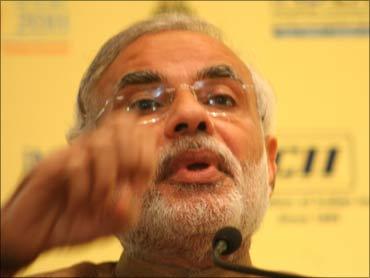 Prime Minister-designate Narendra Modi, in a handwritten letter, has sought the presence of all the 28 state governors at his swearing-in ceremony on Monday.

In an identical letters to the governors, Modi said he was happy to share the news with them that the President has appointed him as prime minister.

The governors were pleasantly surprised at receiving a fax from the Prime Minister's
Office seeking their presence at the swearing-in ceremony, especially against the backdrop of media reports of a possible withdrawal of governors who were Congressmen.

The governors were also taken aback to read the last sentence of Modi's letter to them: 'Your presence at the swearing-in ceremony will be a blessing.'
Modi has already extended an invitation to the heads of all the SAARC nations.