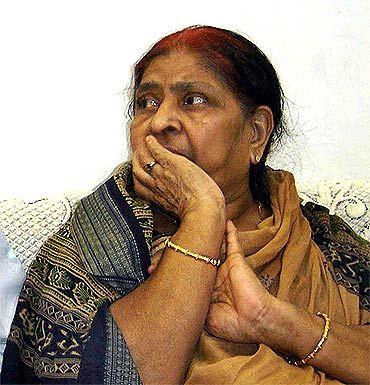 Zakia Jafri, the wife of former Congress member of Parliament whose protest petition against the Special Investigation Team's clean chit to Narendra Modi in the 2002 Gujarat communal riots was on Thursday rejected by an Ahmedabad court, said she was not disheartened after the verdict and would appeal against it.
"What the judge said I listened, but I am not going to be disheartened by it and will take my fight to higher courts," Jafri, who broke down after the judge pronounced his verdict, told reporters.
Zakia's husband Ehsan Jafri was among 68 people massacred during the Gulbarg society riots. "We are disappointed but not disheartened. We will appeal against this judgement in higher court," Teesta Setalvad of Non-Government Organisation Citizens for Peace and Justice, who has been supporting Jafri in her quest for justice, said.
"We believe that there is sufficient evidence in the probe conducted by the SIT. Apart from that other evidence also suggests that a case can be filed against those who are named in the complaint filed by us," advocate Mihir Desai, representing Jafri said.
"Somebody asked me, if this is a big relief for Modi, to which I would say that this relief will continue for just 20 days till we file a case in higher court," Desai said.
"We can now appeal to a sessions court, then to high court and then the matter can go to Supreme court. But once we get the judgement we will decide where to appeal," Desai said.
Metropolitan Magistrate B J Ganatra today rejected the protest petition filed by Zakia challenging the clean chit given to 63 persons, including Modi, by the Supreme Court-appointed Special Investigation Team in the riots.