The Guruvaayoorappan temple in Morganville, New Jersey, which is the biggest of its kind in North America, has turned into a Vrindavan of sorts with the grand opening of a cow sanctuary on the premises. Rediff.com's Arthur J Pais reports from New York.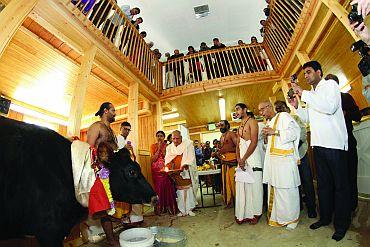 With a firm belief that temples in America's rural areas offer a natural setting for cow farms, scientist and temple builder S Yegnasubramanian helped start a cow sanctuary at the Sri Sringeri Sharada Temple in Stroudsburg, Pennsylvania, a few years ago.

Yegnasubramanian recently witnessed the ceremonial welcome of a cow and its calf to the year-old Guruvaayoorappan temple in Morganville, New Jersey.
The temple was helped in procuring the cow and its calf by Sankara Sastri, a retired technology professor who runs the 42-acre Lakshmi Cow Sanctuary in rural Pennsylvania.
Last year, Sri Sri Bharati Teertha Mahaswami, the Jagadguru Shankaracharya of the Sringeri Sharada Peetham, honoured Yegnasubramanian, chairman of the Sringeri Temple, with the title of Dharmatma.
He is only the third person and the first Diaspora Indian to be bestowed the title in the Peetham's 1,200-plus years history. His devotion to cow protection was cited in the honor roll.
The 40-acre Krishna/Guruvaayoorappan temple in Morganville with room for over 1,000 devotees in its central complex is one of the largest temples in North America.
"We believe with the arrival of gomata and goputri (sacred cow and calf), our Vrindavan in Morganville, the abode of Lord Sri Krishna, is complete," said Yegnasubramanian, who is also chairman of the Hindu American Temple Cultural Centre that runs the temple.
Withstanding a severely wintry Saturday, dozens of devotees arrived at the temple recently for the prayers leading to the inauguration of a cow sanctuary.
The temple joins a small group of cow protection activists -- especially the Hare Krishnas -- who started the movement in America over two decades ago.
The new goshala can accommodate four cows. Right now, it has a cow named Bharati and its calf Surabhi.
The 2-acre grazing ground and heated shelter could have cost $250,000, Yegnasubramanian said, adding that the costs could have gone up considerably but for a lot of voluntary work and consultations by Hindu professionals.
Yegnasubramanian, who worked for Bell Labs for years, has been espousing cow sanctuaries in his religious discourses and also as an adviser for temples in America, Canada and India.

Image: The grand opening of the cow sanctuary at the Sri Guruvaayoorappan Temple, Morganville, New Jersey.